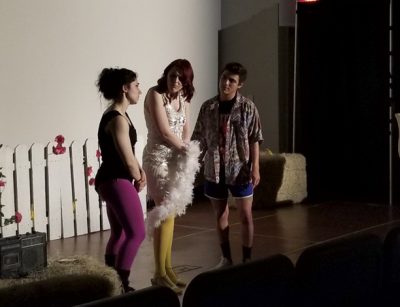 It isn't every day that a talking chicken wearing a white feather scarf makes an appearance on the Law Auditorium stage, but on Wednesday night, she stole the show.
Linda, a talking chicken, is one of just five characters in Wandering Minds' new play "Milk Milk Lemonade," which opened Thursday night and runs through Saturday.
The play, originally written by Joshua Conkel, is about an effeminate boy named Emory (College of Arts and Sciences sophomore Christopher Dominguez) who lives on a farm with his Nanna (CAS freshman Amy Argentar). Elliot (CAS freshman Aaron Velez), the boy who lives down the road and makes fun of Emory for being gay, is secretly pursuing a relationship with him.
"It grapples a lot with identity, which I think a lot of college students are currently transitioning through because college is a time when people are trying to find themselves," said Jacob Mellen, a sophomore in CAS and the technical director. "A coming of age story really appeals to college students … and I think there is a large community that would really appreciate a story like this."
The show's director, Naveen Inim, a sophomore in CAS and the College of Communication, said she had never directed a play before "Milk Milk Lemonade" and had no theater experience before she joined the group a year ago. However, she said that directing has been a "rewarding experience."
"I was looking through a bunch of shows, but I kept coming back to this because it seemed really weird, and it touched on LGBT themes, which I think we haven't touched on a lot yet," Inim said. "It was something that really spoke to me, and I kind of saw the play coming [together] in front of my eyes already, so I thought, 'Why not?' and I pitched it, and I got it."
Originally, the character Emory is supposed to be 11 years old, but Inim and the rest of the crew changed the script a bit to make it more relatable and accessible for college students. She said they also altered some of the lines to add double entendres, both to make the show more comedic and to make sure that all the lines made an impact.
"We tweaked it a little bit because some of the themes were a little bit darker, and there were some slurs that we had to take out so as to make a very inclusive show," Inim said. "That way, if anyone identifies with someone in the show, or if there's anyone on the LGBTQ+ spectrum, they would not get offended by the show — they would enjoy it and relate to it."
Dominguez, who plays Emory, had no theater experience before performing the lead role in "Milk Milk Lemonade." He said he wanted to try acting because he was already friends with some members of Wandering Minds, and the group is like "a little community."
"I was looking to try something new this year and the directors … were telling me about the play," Dominguez said. "It sounded very interesting, so I thought I should try out theater. It is pretty scary, especially playing the lead role … but it's fun at the same time, and it's a new adventure."
Other people involved in the show had a bit more experience. Lighting designer Kelly Tapager, a CAS senior, said she has been involved with theater her entire life and has done Wandering Minds for three years.
Tapager said she originally got excited about doing tech for "Milk Milk Lemonade" when Inim mentioned her desire to include fun colors and spotlights in the play. The show also includes dances and humor, which Tapager said appealed to her because she noted that Wandering Minds' last show, "Snakebit," was more dramatic.
"For this show in particular, since there's so many fun and upbeat moments, like with the dancing and you have the chicken and spider situation … the tech was going to be really fun and creative," Tapager said.
As a film major, Inim said she wanted to branch out from directing short films and try her hand in theater, which she has "always been drawn to," but didn't try out until her freshman year of college.
"It surprised me how intensive the process is … given that we don't have a bunch of funding and a lot of people have never done theater in their life, yet they're working lights and sound and they're building a set from nothing," she said. "The sheer amount of talent in this group really surprised me, and I'm so lucky to work with them."
Inim said it has been a "rewarding experience" working with this cast and crew, especially during tech week, when "everything comes together," but that it is also a bittersweet experience now that the show is almost over.
"I really fell in love with the show, and I really want people to feel something," Inim said. "I hope they fall in love with it, too."