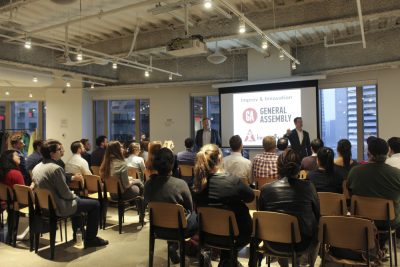 Business is typically no laughing matter, but could comedic improv be used to improve office communication?
Wednesday evening at General Assembly in Downtown Boston, Improv Asylum's artistic director, Jeremy Brothers, alongside CEO and co-founder Norm Laviolette taught audience members communication techniques through interactive improv-based examples.
Starting first with an "electric company" game, where selected members of the audience stood in a line and finished each other's syllable with a word, the event emphasized participation and hands-on education rather than simply giving attendees a presentation.
Brothers said the exercises performed are not picked at random during the event.
"There is like a library of exercises that we choose from," Brothers said. "For the time period that we have, we know if we are trying to get something done in an hour, the configuration of how to make that happen."
Improv corporate training has flourished in America, Brothers said, and it has even become a globally demanded commodity. For Brothers, this has meant traveling everywhere from Austin, Texas to Dublin, Ireland.
"Culturally, I think America has gotten improv and America has gotten improv corporate training particularly," Brothers said. "In other parts of the world, saying 'yes' or trying to really force collaboration might not be the first instinct."
Countries might perceive improv differently depending on their social dynamics, Brothers said.
"They may be more hierarchically minded in that the leaders lead and the followers execute the idea," Brother said. "The idea of trying to get people to think as an ensemble is not a foreign concept in America."
Open to the public, the event was hosted by General Assembly, an educational organization with a mission to help individuals learn skills and transition to new careers in tech.
"At the core of our mission is to empower people to pursue work that they love," said Mei Li Zhou, partnerships specialist at General Assembly Boston. "To do that, we offer a lot of in-demand tech skills training."
Located in 20 cities around the world, General Assembly first opened in Boston in 2012. Zhou said the courses they offer are geared toward closing the global technology skill gap.
"At our campus in Boston we have classes like web development, user experience design, data analytics, data science, digital marketing, so really in-demand skills that help people who want to make a career transition from whatever they were doing to the tech space," Zhou said.
Did she enjoy the improv?
"I had a great time," Zhou said. "This was my first Improv Asylum event. I've been meaning to want to go to one of the shows, so to be able to see Improv Asylum at General Assembly was a lot of fun."
Zhou said she found the energy coming from Brothers and Laviolette worked well with the energy in General Assembly Boston's space.
"I felt like from the energy in the space … was outstanding," Zhou said. "Everyone left feeling energized, motivated, inspired to do their work better."
One of Wednesday's attendees was Sarah Read from Marblehead, Massachusetts. Read works for a travel company and said she's always on the hunt for new techniques and strategies for training employees.
As someone who has been to other Improv Asylum events in Boston, Read said she thought the energy at the event was "very good."
"I think it was great. I got some great ideas. They're hilarious," Read said. "I'm always looking for a new, kind of innovative ways to train people in the office … [The skills they taught] translate into any industry, I think, on how you communicate with other people."
Will General Assembly have Improv Asylum for future events? Zhou said she hopes so.
"We're gonna connect with them and find ways to continue partnerships," Zhou said.