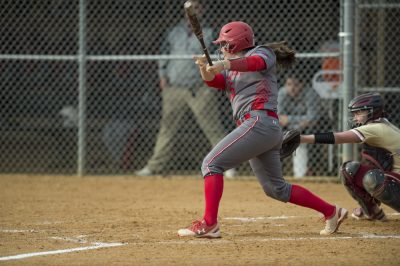 Most Boston University students will be hunkered down in their rooms this weekend in preparation for finals week, but the BU softball team will be focused on a whole different ball game.
After their 15-game winning streak was snapped in extra innings by Bucknell University Sunday afternoon, BU (33-18, 12-3 Patriot League) will look to crush the gas pedal on a new winning streak when the team travels to Hamilton, New York to face Colgate University this weekend in its final regular season series of 2018.
The Terriers are one win away from hosting this year's Patriot League tournament and two wins away from winning the regular season title outright.
"There's always things that we need to work on," BU head coach Ashley Waters said. "… But I want us to be playing our best softball going into this last weekend and going into the tournament, and that's what's going to inevitably help us."
The Raiders (11-28, 6-9 Patriot League) have not been a dominant force in conference play, but nevertheless swept their last Patriot League series against the College of the Holy Cross.
The squad was spurred by dominant starting pitching that allowed just two runs total.
Sophomore Jessica Hay took to the circle in the first game for Colgate, which resulted in a 3-1 win. She allowed a home run to the very first Crusader she faced and was lights out from then on, allowing just four hits through seven innings.
Freshman Bella Crow started game two and threw even better. She struck out seven in a complete-game shutout in a 2-0 triumph before striking out three batters and relinquishing just a single run over 5.1 innings in Sunday's 5-1 victory.
The success the Raiders enjoyed on the mound against Holy Cross (11-30, 4-11 Patriot League) was somewhat of an anomaly considering the season they have had as a whole.
Colgate's pitching staff has allowed the third-most earned runs (143) in the conference and has the second-highest batting average against (.295).
These figures bode well for the boisterous Terriers' offense.
The unit is atop the Patriot League in runs scored (250), hits (409), triples (29) and total bases (571).
BU has recorded loud hits often this year, as its .406 slugging percentage is second in the conference.
Ten of the Terriers' 29 triples have come off the bat of senior infielder Brittany Younan, who broke the league record for triples in a season over the weekend.
"Brittany's been playing an incredible shortstop for us," Waters said. "I think, for us, right now it's just a matter of she really controls the infield and does a great job. So, we need her to continue with that and continue to lead and kind of keep people in a calm space. Colgate's a really great team so we're going to need kind of all cylinders working."
The Raiders' pitchers have also struggled to put opposing hitters away on strikes, as they have registered just 132 strikeouts this season — the second-lowest mark in the conference.
A key player in doing this will be junior catcher Alex Heinen.
"She's been our most valuable player I think from day one," Waters said of Heinen. "Just the way she handles the pitchers, the way she handles the defense then on the offensive end, just continuously driving in runs and having big hits and big moments. Moving forward, Alex is going to be a catalyst for us. If Alex is on, the team has a real shot to win this."
BU will likely put balls in play on a regular basis this weekend as the team has struck out just 126 times this season, the fewest amount of K's in the conference.
At the plate, Colgate is led by senior third baseman Holly Geranen and sophomore catcher and utility player Virginia Irby.
Geranen leads the team with a .322 batting average, 39 hits, four home runs, 58 total bases and a slugging percentage of .479, while being tied for the team-lead in RBIs with 24.
Irby is first on the team with 25 runs scored and a .405 on-base percentage. Her eight doubles tie her for highest on the team while she sits second on the team with a .310 batting average and 35 hits.
The Raiders rank last in the Patriot League in numerous categories, including batting average (.216), hits (216), total bases (310), runs (116) and slugging percentage (.309).
However, Waters said pitching and playing good defense will still remain key for her team.
"I think that we're good enough to score runs, it's just a matter of holding them down," Waters said. "They've been able to put up a lot of runs against most of the opponents in the conference."
With only one win separating her team from hosting the Patriot League tournament at the BU Softball Field, Waters said winning two games of three against Bucknell (26-21-1, 13-5 Patriot League) gave the team some confidence.
"A game's a game so for us, we approach every single game the same and not try to make a big deal out of anything," Waters said. "If we don't win one then we come in second, but we're still in the playoffs so we did our job of trying to make the tournament. Of course we want it to be in Boston, we love our home field so these seniors are really leading the pack this year and I know that they're going to see this through."
Nicole Havens contributed to the reporting of this article.