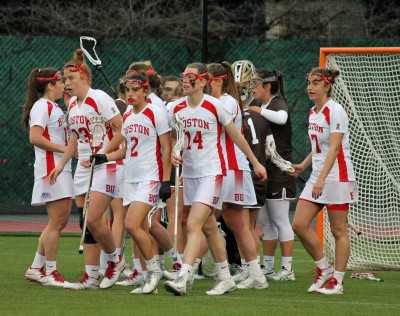 The Boston University women's lacrosse team is looking for a new head coach following the departure of Liz Robertshaw, who had served in the position for the last 12 seasons.
Under Robertshaw, the Terriers appeared in five straight Patriot League Championships, most recently in a semifinals loss against Loyola University Maryland.
BU won four America East Championships followed by NCAA Tournament appearances, including a NCAA quarterfinals appearance in 2008.
Junior attack Kailey Conry and senior defender Tonianne Magnelli were named to the All-Patriot League First Team this past season, the final of 33 Terriers named to all-conference teams while Robertshaw served as head coach.
"On behalf of Boston University, I would like to thank Liz Robertshaw for her service to the women's lacrosse program and to the department," BU Director of Athletics Drew Marrochello said in a press release. "Liz is an exceptionally passionate and committed coach who has done so much for the sport of women's lacrosse. We wish her the very best."
For the previous eight years, Robertshaw also served as an assistant coach to the U.S. national team for women's lacrosse and helped lead the team to two World Cup gold medals, most recently in 2017.
Across the field, defender and midfielder Sarah Andersen represented Israel during the 2017 World Cup before returning to BU and starting in all 18 games of her senior year.
BU alumna Danielle Etrasco, who earned a gold medal for the U.S. national team in 2013, also played under Robertshaw. Etrasco has served as an assistant coach at Georgetown University for since 2016.
Through her 12 years as head coach, Robertshaw led the Terriers to an overall record of 129-92. Nine of those seasons had overall winning records, with the team going undefeated in conference play in 2008, 2009 and 2012.
The 2018 BU season ended 10-8 overall, 5-4 Patriot League, ending with a 6-15 loss against Loyola in the Patriot League semifinals.
The Terriers lost 11-18 to the Greyhounds earlier in the season, capping a 6-3 losing record through the start of the season.
Afterward, BU went on a six-game winning streak.
Robertshaw is the third head coach who will not return to BU for the 2018-2019 seasons, along with Katy Steding, who coached women's basketball, and David Quinn, who coached men's hockey.
A new head coach has not been named, although the search is underway, according to the press release.
"The relationships that I've built with players, alumni, all of the families, and those from within this department have become something I feel truly grateful to have," Robertshaw said in the press release. "It was an honor to recruit, coach and mentor my players every day. Boston University and the BU women's lacrosse family will always hold a very special place in my heart and I look forward to watching the program find success in the years to come."