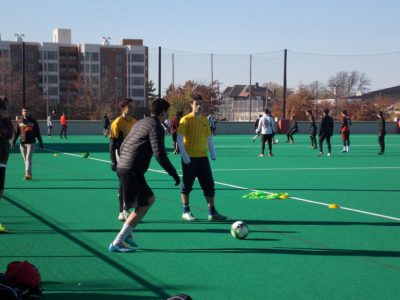 People from every corner of the world find a home at Boston University each year. The college reflects its diverse student body through over 60 cultural and religious clubs and organizations. The following are a few examples of the student associations.
African Students Organization
BU's African Students Organization celebrates and engages with African cultures. Through social, political and humanitarian support, the ASO provides various opportunities for networking and community-building.
India Club
The India Club is the largest student group on campus. According to the club, the organization "has grown into the largest group of South Asians this side of the Mississippi." They host a variety of community events such as festivals, basketball tournaments, free dinners and their popular cultural shows, which include Indian music and dances every semester.
Arabic Society of Boston University
The Arabic Society of Boston is dedicated to the study and promotion of the Arab world on campus. They delve into the economics, language, politics and society of the Arab world.
Sisters United
Sisters United is a place for black and brown female students at BU to find a community to support one another and network. They host "Jeopardy: Women in Hip-Hop" and outings in Boston for members.
Asian Student Union
This organization creates a space for Asian and Asian-American BU students to come together and promote activism through partnerships with nonprofits. They encourage active participation and inclusion of diverse ethnic backgrounds.  
Capoeira
A 16th century Afro-Brazilian art form that combines dance, martial arts, music and acrobatics, the Capoeira club aims to teach and share this unique type of Brazilian art while also promoting physical fitness.
Alianza Latina
Alianza Latina is the largest Latino student organization on BU's campus. It focuses on sharing Latino culture with all of the student body. They have weekly meetings and engage in community service events, such as arranging for Professor David Carballo to lead a discussion with students called, "Collision of Worlds: Deep Histories of the Fall of Aztec Mexico." They also organized a Privilege Walk workshop with the BU Filipino Student Union in March.
Umoja
Umoja is Boston University's black student union. It provides a place for black students or those interested in black culture to unify members of their community through social outreach. The organization presented BU's first ever commencement celebration for black graduates this year. It also sponsors "The Lives of Others: A Tribute to the Makers of Black History," a collection of song, dance, spoken word and other performances.
Christian clubs
Christian clubs on Boston University's campus include Above the Haze: Chi Alpha Campus Ministries, Adventist Christian Fellowship, Asian American Christian Fellowship, Asian Baptist Student Koinonia, Catholic Student Association, Cru, EpiscopalBU, Intervarsity Christian Fellowship, Navigators Christian Fellowship and Reformed University Fellowship at Boston University.
Christians on Campus
Christians on Campus meets with all members of the BU community, from students to faculty to families. They are involved with events such as the Intercollegiate Praise and Ministry Meeting, where members get to meet Christian students from other universities around the Greater Boston Area.
Hillel Students Organization
Hillel is the center of Jewish cultural life at BU. Its house in Central Campus is home to the kosher and vegan dining hall. It offers an array of programming, such as Shabbat dinners, Israel advocacy and Jewish Learning Sermons. Through Hillel, Jewish students are given the opportunity to go on Birthright trips to visit Israel with a group of peers.
Baha'i Club
This organization meets to create a space for conversations about Baha'i, a religion created in  "the mid-19th century by Baha'u'llah, that teaches of the unity of God, religion, and mankind," according to BU's Baha'i Club website. They host and attend events and engage with the Baha'i community of the Greater Boston Area.
Islamic Society of Boston University
This organization encourages members to become educated about and practice their faith. The Islamic Society of BU also organizes events such as when Bilal Mirza presented, "Halaqa: Lessons Learned from Islamophobia in the Seerah." It also hosts events that address social issues such as "Kick it for Yemen," a soccer tournament held last year that's proceeds went to Doctors Without Borders in Yemen.