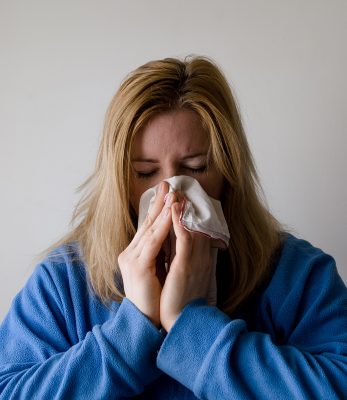 While starting college miles away from home brings independence and feels adventurous and exciting, coming down with the common cold — or worse — can be challenging without mom's home remedies and chicken soup. To help recover quickly, here's a list of tips and resources available right along Commonwealth Ave.
Medicines to keep on hand in your dorm room
With a CVS located near the Boston University Central and Boston University West T stops on the Green Line, students and parents should stock up on over-the-counter medicine for a variety of illnesses and create a basic first-aid kit for the year.
Pain relievers and fever reducers such as Tylenol or Advil are handy for the mornings when you wake up for an 8 a.m. with a splitting headache. They can also be used for minor muscle aches and pains.
The first symptom of the cold or flu may be a cough, so medicated cough drops such as Ricola are necessary to soothe a sore throat. The active ingredient, menthol, reduces coughing fits, so it is important to have these on hand during the year.
DayQuil and NyQuil are also necessary for resuming daily activities when you are in the midst of a cold or flu and need to temporarily relieve symptoms so you can get through the day and have a full night's rest. Other miscellaneous items to include in your first-aid kit for emergencies include bandages, rubbing alcohol and Vaseline for cuts, scrapes and burns.
Accessing Boston University's health services
Treating ailments with the medicines listed above can only go so far. If your sickness persists, it is important to get checked by a physician at one of many of Boston University's health services.
Boston University's Student Health Services (SHS) is staffed by experienced physicians, nurses, social workers, psychiatrists, psychologists and mental health counselors for all of your medical needs.
They provide routine and urgent care for a variety of ailments and perform office procedures such as removing warts. SHS also provides testing for strep throat and STIs, and they have orthopedic equipment including crutches and slings.   
SHS includes a Behavioral Medicine branch, and students can schedule a preliminary 20-minute consultation with staff to discuss mental health issues. Students can also request a referral for a therapist or prescriber in Boston. Appointments for primary care or mental health care at Student Health Services can be made through the website Patient Connect.
However, students can also call the primary care branch in the morning to schedule a same-day appointment. The primary care office is located at 881 Commonwealth Ave., and the phone number is 617-353-3575.
If you feel too sick to visit a dining hall, Boston University Dining Services provides flu meals and Rhetty-to-Go flu meals, which include foods such as applesauce and toast. Students simply place their order online by paying with their meal plan, dining points or convenience points.
Students can ask a friend to be a Flu Buddy to help deliver their food. Flu Buddies take food, cough drops, tissues, assignments, movies, mail and whatever else sick students need to them. If someone doesn't have a Flu Buddy, their local Residence Life Hall Area Office can help them find one.
Prevention is key
According to WebMD article "6 Tips for Avoiding the Cold and Flu," you can prevent becoming ill by staying proactive. They advise getting a flu shot, frequently washing hands, avoiding sick individuals, maintaining clean surroundings and living healthily, which includes adequate sleep and nutrition.