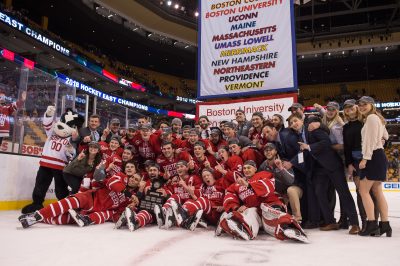 Following the departure of Boston University's men's hockey team's former head coach David Quinn to the NHL's New York Rangers, the Terriers began their search for their next head coach.  However, BU did not need to look far, as former associate head coach Albie O'Connell has been named the 12th head coach in Terrier history.
"Simply put, this is the opportunity of a lifetime," O'Connell said in a BU press release. "I'd like to thank Drew Marrochello, President Robert A. Brown and senior vice president Todd Klipp for entrusting me with a program that means the world to me"  
While he does not have any head coaching experience, O'Connell spent over a decade as an assistant coach in Division I hockey. The Watertown native spent three seasons at both Northeastern University and Harvard University, two seasons at Niagara University and a single season at both the College of the Holy Cross and Merrimack College.
He also spent one season as an assistant coach for Colby College, who has a Division III Team.
"We aspire to have the best program in college hockey, which means that we want nothing less than the best for our university, our alumni, our fans, and most importantly our student-athletes," BU Athletic Director Drew Marrochello said in the press release. "In promoting Albie, we believe we have secured the best possible coach to lead our program at its elite level for many years to come."
O'Connell returned to BU in 2014 as an assistant coach on Quinn's staff. One season later, he got promoted to associate head coach.
As a coach, O'Connell helped lead BU to four straight NCAA tournaments — the Terriers' longest streak since the 1990s, where they made it for nine straight seasons. BU also won a pair of Hockey East titles, and in 2015, won a Beanpot title and finished runner-up in the National Championship.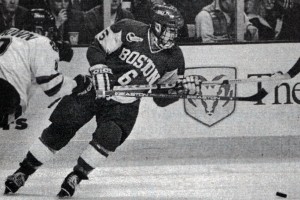 O'Connell continues a legacy of BU alums taking over as the top dog of the men's hockey team. In all but one of the 73 seasons since the end World War II, a former Terrier has been head coach.
As a player, O'Connell played in two Frozen Fours, and as a sophomore, he helped BU into the National Title game and won a Hockey East title. He was a member of the class of 1999, one of two Terrier classes that won four straight Beanpots.
He scored 108 points during his four-year career at BU and captained the team his senior season, leading the team in scoring with 39 points.
"Albie is well-regarded, well-respected and well-prepared for this opportunity," Marachello said. "As a former Terrier captain and Boston University graduate, he understands the magnitude of BU Hockey, and has a clear and aspirational vision for how we will continue to provide a first-class experience to our student-athletes."
Regarded as one of the top recruiters in college hockey, O'Connell was instrumental in recruiting players that played key roles over the past few seasons.
O'Connell helped develop Terriers into NHL players: Olympian Jordan Greenway, All-Americans Matt Grzelcyk, Charlie McAvoy, Danny O'Regan and Hobey Baker Award winner Jack Eichel.
Out of the the current 60 head coaches in Division I hockey, O'Connell is the only one who has won a conference-regular season title, earned a conference tournament title and has gone to the NCAA title game as both a player and a coach.
BU has made the NCAA quarterfinals in back-to-back seasons and will enter the upcoming season as the reigning Hockey East tournament champions.
O'Connell will officially be introduced at a press conference Wednesday at 1 p.m.
"BU has given me so much and I want each player that puts on our jersey to feel the same way I do," O'Connell said in the press release. "Returning here four years ago was an amazing feeling, and I look forward to continuing the momentum that this program has enjoyed recently and carrying on the incredible BU hockey legacy."