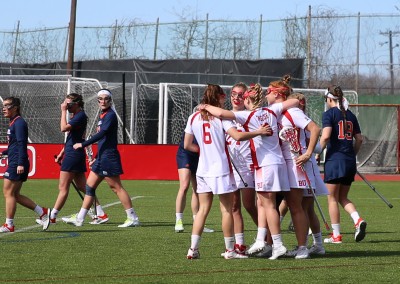 Less than a month after the departure of former head coach Liz Robertshaw, who led the team for the past 12 seasons, Boston University Director of Athletics Drew Marrochello named alumna Lauren Morton as the fifth head coach in program history Friday.
Morton has spent the past four years on the women's lacrosse staff at Duke University, rising to the role of assistant coach two seasons ago where she oversaw offensive play.
In 2017, two Blue Devils surpassed the 100 mark in goals or points while the team made its 19th showing in the NCAA Tournament. Morton oversaw five All-Americans, 10 IWLCA regional honorees and 11 All-ACC selections.
Previously, Morton spent two years as an assistant coach at each Lafayette College, BU and Georgetown University.
The Terriers earned the 2012 regular-season title with a 10-2 record with Morton on the staff.
"Based on the impressions she left here as a student-athlete and an assistant, it is no surprise that she has put herself in position to take over this program and will aspire to achieve as a head coach the type of success she did as a student-athlete," Marrochello said in a press release.
During Morton's time as a player on the team, the Terriers won four straight America East tournament championships and made two NCAA quarterfinal appearances.
When she graduated in 2008, she was named an IWLCA All-America midfielder and held the program-record for draw controls with 182. Her numbers in goals, ground balls and caused turnovers all rank in the top 10 of BU records.
Morton served as captain for her final two seasons at BU and received the Aldo "Buff" Donelli Leadership Award and John B. Simpson Award, which are both awarded to seniors demonstrating outstanding leadership.
After a formal introduction June 19, Morton will also become the fifth head coach at BU who previously attended as a student athlete.
"It is a great honor and privilege to have the opportunity to return to Boston and lead the BU Women's Lacrosse program," Morton said in the press release. "… This is a very special and exciting time for me as BU has always been my second home and this is a dream come true."