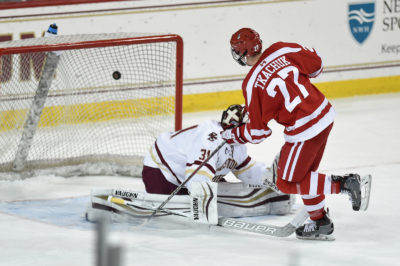 Continuing Boston University's tradition of producing professional ice hockey players, the Terriers saw four players called in Dallas during the NHL Draft June 22–23, tied for the most this year along with four other schools.
The first of BU's top-15 picks, rising sophomore forward Brady Tkachuk, went fourth overall to the Ottawa Senators.
Ottawa also spent its 2017 first-round pick on Shane Bowers, a rising sophomore forward and linemate of Tkachuk, but later traded his rights to the Colorado Avalanche.
The Terriers' third-highest drafted prospect — second of which is Jack Eichel in 2015 — is coming off a freshman season where he tallied 31 points through eight goals and a team-high 23 assists while clocking 131 shots, the most of any freshman nationwide.
The St. Louis native also made history as he and his father, former BU and NHL star Keith Tkachuk, became the first father-son duo to become first-round draft picks after playing NCAA hockey.
While noncommittal about whether to stay at BU for the 2018–2019 season or to make the jump professionally, Tkachuk was content with just enjoying his unprecedented weekend.
"I'm super pumped right now," Tkachuk said in an interview with Sportsnet. "… Ottawa's a great organization. To be a part of it now, it's an awesome feeling and I'm going to be really happy to celebrate with my family and friends later."
Rising freshman Joel Farabee joined Tkachuk in getting drafted after the Philadelphia Flyers picked him 14th overall.
Farabee's first-round selection to his favorite team caps off what has been a big year for the native of Cicero, New York. While serving as captain of the U.S. National Team Development Program's U-18 team, Farabee finished the season second in goals with 33, 43 assists and 76 points while appearing in 62 games.
"Actually, I'm not going to lie, when I came to the draft, I wanted to go 14 to Philly. I think it's pretty cool for that to actually happen," Farabee in a press conference at the draft. "… My dad's actually from Philly, so I grew up watching the Flyers."
When the draft opened on its second day, another Terrier joined the pair — fellow incoming freshman Jake Wise, who went  69th overall to the Chicago Blackhawks.
The Reading, Mass. native entered the draft after spending a season alongside Farabee on the USNTDP's U-18 squad, which saw him post 43 points with 11 goals scored and 32 assists in 38 outings. He had missed the first half of the season due to injury, returning to the game in late December.
"I thought the Hawks were probably one of the teams I was going to for the longest time," Wise said in at the draft press conference. "I don't know why, but I just had a gut feeling and going to the Blackhawks, it's unbelievable. Unbelievable organization, and I couldn't be happier."
To wrap up the draft, BU closed with class of 2019 commit Liam Gorman being drafted in the sixth round by the Pittsburgh Penguins.
The 18-year-old prospect out of St. Sebastian's School wrapped up the 2017-2018 campaign with team third-best 33 points from 17 goals and 16 assists.
Gorman's selection brought number of Terriers chosen up to 172 players since 1970.
This summer has not been lacking in drama for BU hockey, after the departure of former head coach David Quinn. When the players return to competition this fall, Albie O'Connell will be at the helm of BU hockey.