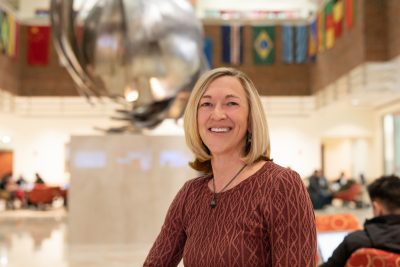 Marketing professor Susan Fournier has been appointed dean of the Questrom School of Business after Dean Kenneth Freeman announced in November that he would step down from the position.
Fournier, a professor for 13 years and Questrom's senior associate dean for faculty and research for the last three, will start in her new position Aug. 27.
Fournier said she plans to focus on online and experiential learning, global partnerships and "research with practical and pragmatic impact."
She spoke of her desire to "double down" on focus areas involving increasingly important areas of the economy: health, social impact and digital technology.
"We've been hiring people in these spaces," Fournier said, "we've started to build research institutes in these spaces, we have programs, graduate programs and concentrations for undergrads in these spaces, and now it's time to really double down and turn up the dial on those and really make them hum."
She also plans to build more partnerships between faculty on research tracks and those on teaching tracks.
"We already have what I would consider to be a fantastic culture, but let's further enable the collaborative culture, and in particular … interdisciplinary work and ideas and projects and partnerships," she said.
Fournier will be the first female dean in Questrom's history.
"We've never had a woman dean, and it's definitely notable and wonderful," Fournier said. "But I also would say that at the same time, I want to be known as a great dean, not first and foremost as a woman who happened to get a dean role. I'm really looking forward to the day when that doesn't even have to be a question anymore."
University Provost Jean Morrison selected Fournier upon the recommendation of a search advisory committee composed of various faculty members, said QST professor Michael Salinger, who served as chair of the search committee.
After speaking with faculty, staff and students in Questrom and narrowing down a long list of nominees, the committee conducted first-round interviews off campus to maintain confidentiality, Salinger said. They then narrowed the candidate list down further, bringing the finalists to visit campus.
Kenneth Lutchen, dean of the College of Engineering and a member of the search committee, said Fournier's previous experience at Questrom will serve her well in her new position.
"She will have a very good idea of how to grow the faculty in a way that adds excellence in scholarship simultaneously with excellence in education, creating a [tighter] community within Questrom — because she's from that community herself," Lutchen said.
Lillian Ilsley-Greene contributed to the reporting of this article.
CORRECTION: A previous version of this article incorrectly paraphrased a quote from Fournier. An updated version of this article reflects this change.