Change has come, gone away and come again in the realm of U.S. politics. But this moment in Democratic politics seems particularly potent: in state after state, the narrow, ironclad profile of who can run and who can win at the highest levels of politics has been irreversibly expanded.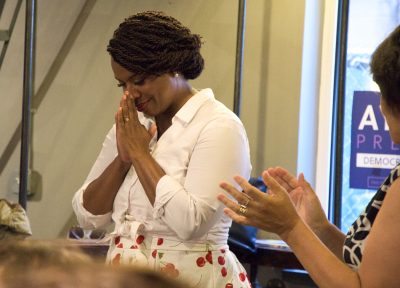 Here in Massachusetts, Ayanna Pressley has emerged as the face of this wave, and she has a clear message: change can't wait.
Since the sobering defeat of the 2016 presidential election for liberal politicians, many conversations have sprung up about the values and "soul of the Democratic Party."
In June, 28-year-old Alexandria Ocasio-Cortez, a Boston University alumna, defeated incumbent Congressman Joseph Crowley in New York's 14th Congressional District. The victory sent shockwaves through the party base, creating concerns over how far left the party had swung.
The heat of the battle ignites the Democratic primary race in Massachusetts' 7th district. Voters heading to the polls Tuesday have little choice between the policy preferences of incumbent Mike Capuano and Ayanna Pressley, who attended BU. The candidates admit they agree on most issues.
At first glance, Capuano has a clear pathway to victory. Capuano boasts 10 terms of experience in the House and an incredibly progressive agenda.
Given his seniority in the House, he has significant clout at a time when the Democratic Party is in the minority. Unlike Crowley, he secured billions in federal dollars to improve affordable housing, public transportation and community health centers.
Pressley believes the people of the Massachusetts 7th deserve a change. She is part of a wave of candidates, including Ocasio-Cortez, who have pushed for the Democratic Party to embrace changing demographics and reevaluate its policies.
The district, once represented by John F. Kennedy and Tip O'Neill, has long been a bastion of progressive ideas.
The economic realities of the area, however, don't reflect progressive politics.
"Get on the Number 1 bus from Cambridge to Roxbury, [and] you'll see median household income drop by $50,000 and life expectancy by as much as 30 years," Pressley said.
Pressley said she feels the race is about sending someone to Washington who has experienced these struggles firsthand.
Pressley, 44, grew up in Chicago and moved to Boston in 1992 to study at BU's College of General Studies. She was forced to leave school after two years when her mother lost her job.
The politician took on three jobs and an unpaid internship after she left BU. Some critics have cut Pressley down for her lack of a college degree, but she points out millions of American students endure the same financial hardships every year.
"Those closest to pain should be the closest to power," Pressley often says on the campaign trail.
Pressley has years of experience to back her up as well. She worked for U.S. Rep. Joseph P. Kennedy II and former U.S. Senator John Kerry for 16 years before running for Boston City Council.
As the first black woman elected to the Boston City Council, she prioritized issues of gender and economic inequality. She created and chaired the Committee on Healthy Women, Families and Communities and developed a comprehensive sexual education curriculum for Boston Public Schools.
Pressley has taken a pointed interest in Boston's college scene. With a high concentration of millennials in the district from the local higher education institutions, she is determined to prevent a "brain drain."
She said she sought to understand and address students' concerns and vowed to create a college advisory council and an annual summit for students.
"Student debt is crushing hopes and dreams," she said.
Pressley noted the average graduate has $30,000 in debt. She offers a vision of demand-side economics that allows a one-time student debt cancellation. This policy increases their purchasing power and investment in the city's economy.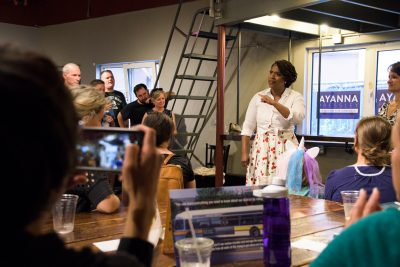 Pressley also aims to act as a champion of young girls and women. She was sexually assaulted as a student at BU and has assumed a leadership role in the call for addressing rape culture.
Seven years have passed since Pressley first disclosed the sexual assault publicly, but she still feels colleges have not done nearly enough. She hopes that by sharing her own story, she could help millions of fellow survivors feel seen and empower them to share their stories as well.
Pressley strives for a culture shift with increased accountability among administrators, greater access to services for victims and an opportunity to see justice enacted through the reforms.
"It is really trauma-triggering to be on campus with your perpetrator around," Pressley said.
Pressley has only held elected office at the local level, yet believes her background in coalition-building makes her uniquely qualified for this moment in politics.
"These times require bold, activist leadership," she said. "That is not a leadership choice, that is a moral mandate and expectation of this generation."
Despite the conservative leaning of the executive and legislative branches, Pressley maintains a positive outlook and a fierce determination.
"I refuse to accept that because we're the minority, there's nothing that can be done," Pressley said.
She believes with persistence, the Democrats stand a solid chance to take on the current administration. However, she takes issue with the emphasis the party places on simplified identity in politics.
"I am black and a woman, and that is obvious," Pressley said. "And I am unapologetically proud to be both. However, that is not the totality of my identity. I am a wife, a mother, a caregiver … I am a survivor. I am a visionary activist leader and an innovative organizer and a policymaker and that's what this district needs."
Pressley stresses representation is as much about cognitive diversity, which is defined by perspectives and ways of information-processing, as other factors such as race and gender. She believes that should be reflected in politics.
This race underscores the crossroads facing the Democratic Party at present and offers a glimpse into what it might look like in the future. Despite differences in political views, Pressley has actively cultivated relationships with lawmakers across the aisle and values finding common ground.
"I will work with anyone in the name of progress," she said.