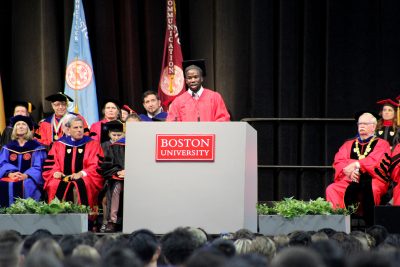 New students officially joined the Boston University community during the university's annual Matriculation Ceremony at Agganis Arena Sunday afternoon.
The students, a mix of transfers and the 3,600 members of the class of 2022, made their way to the ceremony via two different processionals — one from East Campus and one from West Campus. Once inside the arena, they were joined by parents, friends and faculty from across the university.
The hourlong event saw speeches from student and faculty leaders, who stressed the importance of intellectual risk and inquiry. Speakers also discussed how the new BU Hub general education system will impact students' academic journeys.
Student Government President Devin Harvin, a senior in the College of Arts and Sciences, gave the first address of the afternoon. He told the new students to value all of the advice they've been given, but to remember that their education belongs only to themselves.
"Remember that this is yours," Harvin said. "Raise your expectations, lower your expectations. Take only 8 a.m.'s or take no 8 a.m.'s at all. Only you have the ability to choose your own path."

Harvin said that his Student Government will make itself as accessible as possible to the newly matriculated students.
"We're here for you … rain, sleet or snow, or the traditional Boston way, a mix of all three," Harvin said. "We will show up for you."
Associate Provost for Undergraduate Affairs Elizabeth Loizeaux spoke next. She said that while every student will accomplish the six "essential capacities" of the BU Hub during their time on campus, they will do so in distinct and varied ways.
Loizeaux added that as students pursue their Hub requirements, they should seek out discomfort and avoid conformity.
"Resist the 'Amazon-ification' of our cultures," the provost said. "…Why let other people curate your experience? Resist, I say. Be contrarian, even or especially with yourself."
Loizeaux's advice to pursue intellectual discomfort stuck with incoming CAS freshman Johanne Antoine after the ceremony concluded.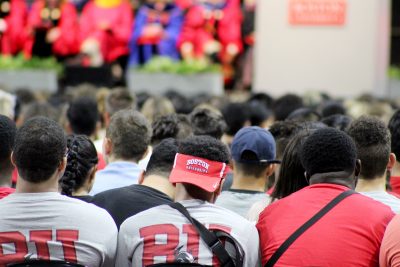 "[BU] is supposed to be a lot more open-ended than high school was," Antoine, a Boston native, said. "There's a lot of free time, ways to express yourself, a lot of opportunities."
BU President Robert Brown also addressed the incoming students, asking them to pause for a moment and consider their futures. By the time these students will graduate in 2022, he said, the world will be more diverse, urban, interconnected and automated than ever before.
"Our goal is for you to thrive and lead in this rapid and changing world throughout your life," Brown said.
His best advice in the meantime, he said, was to take advantage of all that BU has to offer.
William Moon, a freshman in the College of General Studies from Olympia, Washington, said the ceremony left him thinking about his future.
"I just don't know what my future will be like since I'm undecided," Moon said. "So I just want to explore myself."
After Brown's address, the president was joined by University Provost Jean Morrison and the deans of BU's 10 undergraduate colleges to officially matriculate the members of the class of 2022.
Alexander Acosta, a CAS freshman from Baton Rouge, Louisiana, said the most memorable part of the ceremony for him was when he heard his college called out over the loudspeakers.
"That was really fun … standing up and screaming," Acosta said.
Mark Marsden, a CAS freshman from Oakhurst, New Jersey, said the Matriculation Ceremony was a unifying experience and that he was struck by the mention of BU as a new "home."
"It's a weird concept," he said. "You're leaving what was your home, and now this is your new one at BU."