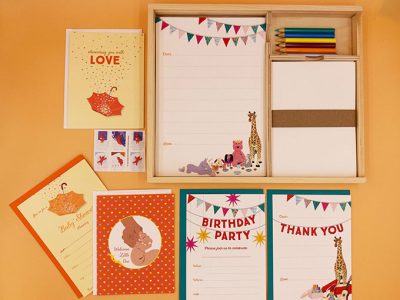 Selecting the perfect card for a birthday, wedding or other celebration can be a hard decision. Customers face down rows of cards, yet the perfect fit may not be there — many feel as though cards lack diversity, excluding a wide range of customers.
Two BU alumni observed this phenomenon and decided to change the stationery market themselves. In March 2017, '95 graduates Annika Sarin and Jennifer Mercaldi Ramella founded Brookline-based company Me You Paper, which sells greeting cards, art prints, stationery, journals and other paper products featuring images that highlight all walks of life on meyoupaper.com.
"For us, representation in [our products] has always been important," Sarin said. "Everyone deserves to see themselves. Growing up as a person of color in America, this has always been part of my reality."

The two met when matched as roommates during their freshman year at BU. They remained roommates for all four years, and it was through that time together that they realized their shared passion for letter writing.
"Jen and I would write each other letters over summer break and when one of us studied abroad," Sarin said. "When I was working in New York, I found a postcard in one of the vintage postcard stalls that I sent to Jen, and she still has it. There's something about the idea of a letter that someone has touched. It's a tangible thing."
One of the first designs the duo came up with was a floral based on an Indian textile piece that was in Sarin's house. The pattern now features on art prints, greeting cards, stationery kits and journals.
Sarin and Ramella's loved ones provided inspiration for the artwork. Some designs included were based on real photographs of their families and friends, sharing moments of celebration with one another. One card, with an interracial mother and child, was inspired by a photo of Sarin's aunt and cousin sitting in a field of flowers in India.
The duo emphasizes that the experiences and influences they showcase on their products are reflections of the lives of people around them.
"I'm actually not a big fan of the word 'diversity,'" Sarin said. "When you say diversity, you're thinking that things are 'different.' These are very common moments. If we start looking at ourselves in these very human moments, of a mother and child, or two people in love, then we can see beyond these other things. We see the inclusion of each other in just being human."
Both BU graduates have experienced positive reactions to the Me You Paper products. Ramella remembers watching a teenage boy ask his parents to buy a print featuring a gay couple. Sarin was touched by the reaction of a woman upon seeing a card with an interracial mother and child.
"She said she had never seen an interracial mother on a card before," Sarin said. "For her, this was the first time, and that means a lot."
Ramella and Sarin organize almost everything for Me You Paper by themselves. Their unique products and designs are noted by people the pair work with at their printing company, TPI Solutions Ink.
"I really enjoy collaborating with [Sarin and Ramella] because we love working on creative projects at TPI," said Carrie Grove, TPI's vice president. "It's more than us just printing cards for them."
In the future, Ramella and Sarin hope to explore printing on textiles to create products like T-shirts and tea towels. They've also received feedback from customers who hope to see representation of people with disabilities on the products.
"We really love to get feedback," Sarin said. "It shows that we really don't have to look far to find, well, everyone. It's all a learning process. All of the stuff we do is the best we can do."
One current focus for Me You Paper is sustainable production. According to their website, their journals, prints and stationery are on 100 percent post-consumer recycled paper, and the greeting cards' packaging is compostable.
"Being environmentally friendly narrowed our choices, but our reasoning behind it is the same as our reasoning behind the representation in our products," Ramella said. "It's who we are. We live our lives with that mentality."