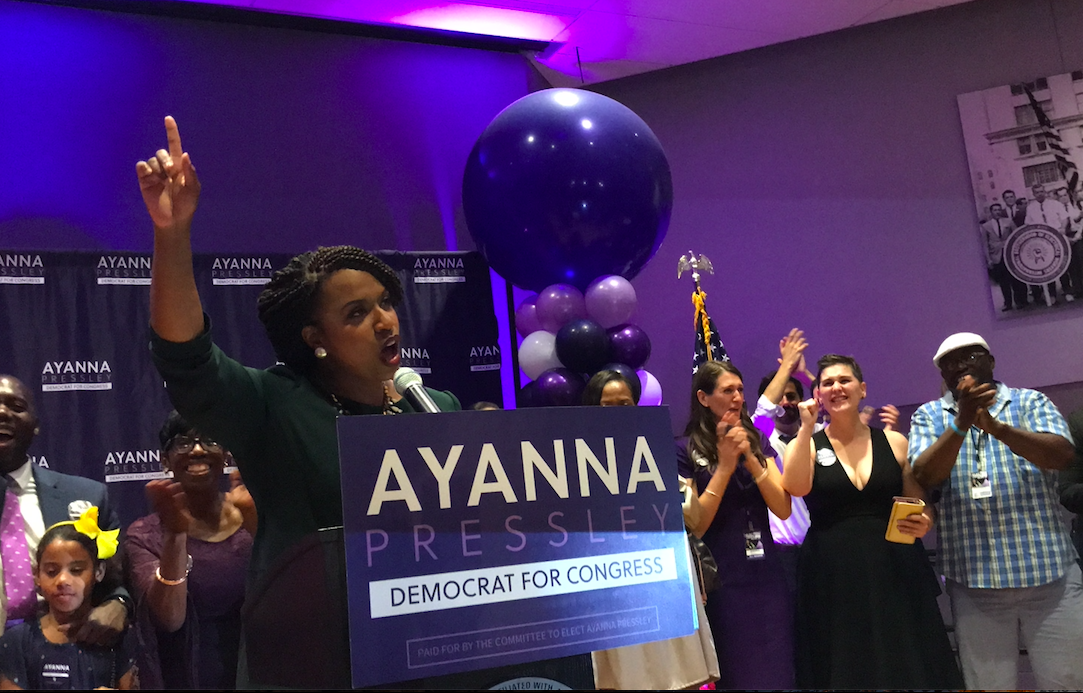 In a historic primary election race Tuesday, several incumbents were beat out for their party nominations as Bay State voters opted for diverse candidates seeking to change the Commonwealth for the better.
In the race for the United States Senate, incumbent Elizabeth Warren won the Democratic primary uncontested. For the Republican primary, Geoff Diehl defeated John Kingston and Beth Lindstrom.
One of the most contentious races of the election was for the U.S. House of Representatives District 7 seat. Boston City Councilor At-Large Ayanna Pressley defeated incumbent Congressman Michael Capuano in a historic race. As there was no Republican running for the seat, Pressley is slated to become the first black woman to represent Massachusetts in Congress.
Pressley's campaign focused on Congress's need for a newer, more progressive Democratic candidate for District 7. Capuano ran on a platform that having experience in Congress would make him best suited for the job.
At Pressley's election night party, she addressed her crowd of supporters and gave a victory speech in which she acknowledged her opponent.
"Mike Capuano is unapologetically himself," Pressley said. "On many occasions throughout the years, when there's a strike or a rally, I'd find myself sharing the same microphone or bullhorn with him. He forced me to bring my best, just like in this race, and I thank him for his 20 years of service."
Pressley also said in her speech that it is not only important to elect Democrats to Congress, but progressive Democrats who will rightfully represent their constituents.
"With our rights under assault, with our freedoms under siege, it's not just good enough to see Democrats back in power, but it matters who those democrats are," Pressley said.
One member of Pressley's campaign team, Jackie Jenkins-Scott, her friend and former president of Wheelock College, said she thinks Pressley will be an excellent congresswoman.
"She's smart, she's intelligent, she's committed, she understands that this is more than her," Jenkins-Scott said. "This is really about change in our country, and she is a ferocious fighter, and she will fight for the people in this district and the people in this country."
In the Republican primary for governor, incumbent Charlie Baker beat out Scott Lively, while Jay Gonzalez defeated Bob Massie for the Democratic nomination. Gonzalez's campaign is focused on a commitment to public service and highlights high quality early education for children.
In the race for lieutenant governor, Karyn Polito won the Republican slot uncontested, and Quentin Palfrey defeated Jimmy Tingle for the Democratic primary.
The primary issues highlighted in Baker and Polito's campaign were growing the economy, strengthening schools, tackling the opioid crisis, supporting cities and towns, respecting taxpayers and reforming the state government.
Democratic National Committee Chair Tom Perez issued a statement regarding the results of the Massachusetts primary where he congratulated Gonzalez, Pressley and all the other Democratic candidates who won their primary races.
"With Pressley's historic nomination tonight, Massachusetts is one step closer to sending its first-ever African American woman to Congress," Perez said in the statement. "I know this fantastic slate of Democratic candidates will work tirelessly for the state's working families, and Massachusetts voters know these Democrats have their back and share their values."
Several Boston residents who voted at the Boston Temple Seventh-day Adventist Church in Fenway shared their opinions on the race for the U.S. House of Representatives.
Margaret Parker, 33, of Fenway, said she came to vote because she was especially interested in the race between Pressley and Capuano. Parker said even though she found that both candidates had similar views, she decided to vote for Capuano.
"I voted for Capuano because I think he's done a really good job so far, and I liked both the candidates, but I feel like Presley was running just on the change ticket and not necessarily on anything else," Parker said. "I know [Capuano]'s good. I know he's voted for what I believe in in the past, so that's why I voted for him."
Paul Laemmle, 65, of Fenway, said he voted for everybody on the ballot who was running uncontested, as he figured they needed the vote. In the race between Pressley and Capuano, Laemmle said he decided to vote for Pressley because Capuano might be the "big name" with "big bucks behind him," but he thinks we need change.
"Men aren't doing a good job, so any woman out there, I'm going to vote for," Laemmle said. "If they're a Democrat and a female, they go way up the pecking order. It's time for some changes. We need a lot of changes."
Sydney Banks, 25, of Fenway, said she tries to make it a personal practice to vote, but felt it was especially important this year to make her voice heard. Banks voted for Pressley and said she has been following her career for a while.
"I just think [Pressley]'s views are really refreshing, and her kind of representation is important," Banks said. "It's important to challenge the status quo, so that's why I'm supporting her."
Another voting location in Boston was at the Jackson Mann K-8 School, where Kimberly Maroon, 36, of Allston, voted. She said she thinks voting is important in order for everyone to have a voice in the community.
"There's issues that I think about for the city like affordable housing, fair treatment of people with mental or substance abuse problems, and I know a lot of the candidates have different stances on that," Maroon said. "[It's] important for me to have a say in who gets through and who doesn't. In general, people fought for the right to vote so why squander all that hard work."