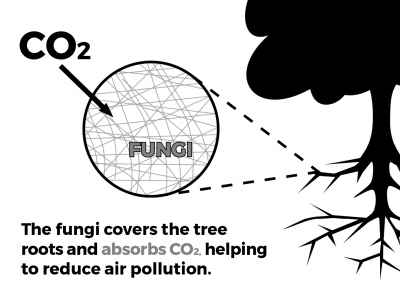 A walk through the forest reveals layers of life from the lush canopies to dense undergrowth, yet below the earth, action ensues. Boston University researchers discovered that as underground fungi grow, they help absorb CO2 pollution and mitigate climate change.
Colin Averill, a microbial ecologist at Boston University, and Jennifer Bhatnagar, professor of microbial biology, co-authored "Continental‐scale nitrogen pollution is shifting forest mycorrhizal associations and soil carbon stocks" alongside Michael Dietze, an ecological professor. The study was published in Global Change Biology.
Averill said he found the environmental impact of one underground fungi, mycorrhizal fungi, particularly interesting.
"Mycorrhizal fungi are super cool to me because they represent the connection between both the above and below ground components of an ecosystem," Averill said. "[They] can affect both the productivity of forests and decomposition of dead stuff in soil."
Bhatnagar described the relationship between mycorrhizal fungi and plants as the "poster child of symbiosis" because the plants themselves cannot sufficiently absorb nutrients and water from the soil, and the mycorrhizal fungi cannot photosynthesize and, therefore, cannot produce sugar.
"[Mycorrhizal fungi] colonize the root [and] … give the plant nutrients like nitrogen, phosphorous and other minerals and water," Bhatnagar said. "In exchange, the plant gives the fungus carbon in the form of sugar that it makes from photosynthesis."
Bhatnagar's interest in the fungi was peaked by its other roles beyond plant symbionts. The mycorrhizal fungi act as decomposers and release enzymes into the soil, according to Bhatnagar. The enzymes catalyze the breakdown of carbon compounds in the soil and use the carbon from soil for growth instead of plant sugars.
"What interested me about mycorrhizal fungi is their ability to sequester carbon out of the atmosphere because … the plants are funneling a lot of sugar down to these ectomycorrhizal fungi," Bhatnagar said. "Ectomycorrhizal fungi … can take up to 20 percent of sugar that a plant makes at a particular point in time."
Bhatnagar said that essentially, ectomycorrhizal fungi store carbon in terrestrial ecosystems just by growing and turning plant sugars into their own biomass.
According to Bhatnagar, the fungi's non-symbiotic roles helped spur the study.
"One question or challenge was to show, pretty unequivocally, that ectomycorrhizal fungi are not just helping plants grow, [but] bring[ing] to light some of the other roles they play in an ecosystem," Bhatnagar said.
According to Averill, there are two major functional types of the fungus: ectomycorrhizal and arbuscular mycorrhizal fungi. Both have adapted for faster nitrogen cycling.
"We wanted to know if these mycorrhizal types are shifting under nitrogen pollution because we know that these different mycorrhizal types are linked to different abilities of forests to sequester carbon dioxide from the atmosphere," Averill answered when asked about the study's motivation.
The source of this nitrogen pollution, Averill explained, is fossil fuel burning.
"Nitrogen deposition increases in areas that are urbanized and fragmented," Bhatnagar said. "If you take a natural patch of land, like a forest, and put a road through it, the edges of that forest where it meets the road tends to have a very high level of nitrogen pollution."
According to Averill, while nitrogen deposition rates are decreasing in the United States, they are "going through the roof" in places such as China and India.
"We wanted to know if nitrogen pollution was causing us to lose forests [with ectomycorrhizal fungi] and replace them with arbuscular mycorrhizal forests, and that's because nitrogen deposition rates are actually changing a lot on Earth right now," Averill said.
Bhatnagar said that the observational study was conducted with existing data sets that included the abundance of different tree species in forests around the U.S., the amount of carbon in the soil of those forests and the amount of nitrogen pollution these forests had experienced over time.
"Trees associated with ectomycorrhizal fungi can keep up with rising CO2 and sequester more carbon dioxide," Averill explained. "[The fungi help] build more tree trunks and biomass, but they can also slow down decomposition, which is basically slowing down the output rate of carbon from an ecosystem."
Kevin Wang, a sophomore in the College of Arts and Sciences, said that he found the results of the study surprising.
"[It's interesting] how the fungi seemed to play a very large role in the reduction of CO2 and the ability of the trees to help trap carbon dioxide in forests," Wang said.
Bhatnagar said she wants more people to appreciate the role of microorganisms on the planet.
"I think it's important for people to realize that the soil is really a universe of microorganisms that are very active," Bhatnagar said. "A microscopic organism can be so active that it could have the ability to impact the global climate."