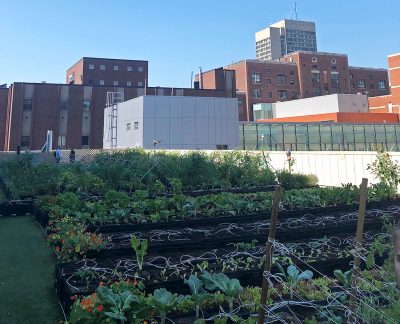 At ground level, the Boston Medical Center appears as a vast, brick building, yet atop the roof sits rows of colorful vegetables and leafy greens. Red tomatoes on vines, green peppers, cucumbers and blossoming heads of lettuce and other leafy greens grow in the plots.
This summer, the university's First Year Student Outreach Program (FYSOP) teamed up with the farm and created the new project. Students who volunteered at the farm helped plant and clean up the area.
About 2,600 square feet of the roof is used for growing the food. The farm is managed by Lindsay Allen, who said she began working at the farm because she was interested in urban agriculture.
"[I] was really interested in moving back into the city and trying to engage in a lot of the issues that we see in food and food security in cities and how urban farming can alleviate a lot of those issues," Allen said.
Her responsibilities include crop planning and hosting tour groups every week for patients, employees, volunteer groups and the general public. She also manages the farmers market and spends three days a week harvesting.
Allen is also tasked with deciding organic sprays for pest control, as all of the produce is organic. She was drawn to the farm because she said she was intrigued by the location of it.
"[Once I] saw how much [was] possible to actually grow [there], it became a lot more appealing to me," Allen said. "I'm always a big fan of using spaces that are underutilized to produce something, whether that's food or art, and … stack[ing] more functions in our living spaces."
Catrin Trudgill, a senior in the College of Arts and Sciences, led a FYSOP group that worked at the farm and learned about food insecurity prior to assisting at the BMC. The 14 freshmen spent an hour and a half at the rooftop garden pulling up dead crops and replanting, according to Trudgill.
She said this project allowed the students to actively help with the food insecurity issues in Boston that they had learned about.
"[The freshmen] really liked the mission, and they really liked doing … active service and getting their hands dirty," Trudgill said. "They felt happy about the difference they made."
Allen explained rooftop farms have three different styles, and she sought to find one that was most productive and efficient.
"One is that you can have an open-media style bed, which means you're putting soil onto a roof, and it looks like you're walking all over normal ground," Allen said. "Then, there's traditional raised beds-and-milk-crate growth systems, which is what we have here."
According to her, studies have shown that milk crate systems seem to outproduce the rest of the options. Allen said the style of rooftop garden forces her to lay out the farm very carefully.
"I put a lot of effort in trying to maximize every square inch of growth space that I can, whereas in normal farming, you aren't as forced to be quite efficient with your spacing," she said. "But in terms of growing, you can really grow almost anything that can grow in ground."
According to Allen, kale, collard greens, chard, tomatoes, peppers, cucumbers, squash, zucchini, carrots, radishes, spinach, arugula, bok choy, salad mix, lettuce heads, beets and different types of herbs are grown in BMC's rooftop farm.  
She said she focuses on two types of crops: ones that grow in the ground quickly and can be planted in quick succession and ones that can be harvested from for a few months, such as kale and collard greens.
The organic produce is sent to different tables in the local Boston community. According to Allen, 50 percent of the harvest is sent to the on-site food pantry, and doctors at the medical center prescribe some patients to the pantry.
The rest of the fruits and vegetables go to kitchens and then to cafeterias and patients' rooms. There is also an on-site teaching kitchen. Patients and employees can buy the produce for a low cost at a weekly, in-hospital farmers market.
"[Providing] healthy organic food out of such a unique spot is really rewarding," Allen said. "I love doing tours of the farm. Usually, it's people's first time being on a rooftop farm, and they're amazed at how much food you can grow on a rooftop."
Shahin Damji, a sophomore in CAS, was a FYSOP staff leader and said the students learned new ways for cities to be sustainable from the project.
"BMC's rooftop garden … seems like a sustainable way to not only minimize the city's carbon impact [and] the school's carbon impact, but also to provide patients and people in the Boston University community with local, healthy foods to eat, which is very hard to come by sometimes," Damji said.
Allen strives to do more with the farm than solely harvest produce — she said she hopes it can educate people about vertical farming.
"Hopefully it opens people's eyes to creative ways of growing food in the places that we live, especially in urban areas in which there's often limited space," Allen said. "Getting to be a part of that is really rewarding."
CORRECTION: A previous version of this article misidentified Shahin Damji as a FYSOP group leader. Damji worked as a FYSOP staff leader over the summer. An updated version reflects this correction.