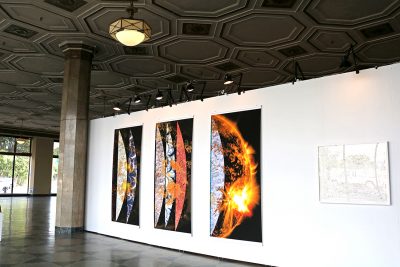 Lynne Cooney teetered on a paint-splattered ladder as she reached to hang lights that would shine onto the showcase she had carefully put together. Large images of dry cleaning laundry tags hung throughout the 808 Gallery in preparation of "A Few Conversations Between Women."
The exhibit opened to the public Tuesday and features the work of female faculty in the College of Fine Arts. The artists were asked to put their pieces side-by-side with the work of another female artist who was their mentor or someone they mentored.
Cooney, artistic director of Boston University's 808 Gallery, said she chose this theme for the exhibition because of a recent increase in female professors.
"A Few Conversations Between Women" is intended to display the support that women in the field have for one another and to provide a space for them to show their work, Cooney said.
"When I was in art school, all the favorites were male students chosen by male faculty," Cooney said. "The field is dominated by white men. Women still struggle to be fairly represented in the art world."
The director said she admired the faculty's blind faith in her idea for the exhibition. She chose artists who she wanted featured, rather than blindly selecting artists based on pieces of their artwork.
"The idea that they trusted me with this very open concept speaks to their investment to supporting younger artists or those who helped them," she said.
The exhibition has multiple ties to the student body since the 808 Gallery is run by BU and shows undergraduate artwork at other times of the year.
Though BU hosted this exhibition celebrating female artists, Dina Martinelli, an art teacher who received a BFA from the CFA in 2015, wrote that there is still a lot of work to be done before women are fully represented in the fine arts.
"As a woman, I think it is essential to create strong mentor/mentee relationships, and to build a collective of women that you can turn to for advice and inspiration–even something as simple as following some women artists on Instagram," Martinelli wrote in an email to the Daily Free Press. "We have so much to learn from each other's stories."
Felice Amato, a professor in art education, is featured in the exhibition. She has two different types of puppets on display: one is a crankie, an old art form used to tell stories, and the other is a needle felted puppet.
Amato explained that her art reflected her role as a mother — she has to be able to pick up her art, throw it in a bag and keep moving to take care of her daughters.
"I never had an art professor who was a mother, but probably more than half of the male art professors I had had children," Amato said. "My art is a product of the pressures of being a mother and an artist. My work wouldn't be the same without it."
"A Few Conversations Between Women" will be at the 808 Gallery from Sept. 4–28. The opening reception is on Friday, Sept. 7, from 6–8 p.m.
"[Female artists] have not had the privilege or opportunity to be raised to the level of their male counterparts," Martinelli wrote. "… Each one of the women in this show has something important to say about their personal experiences and their view of the world around them. Art is so special because it tells the story of the individual or group who created it."