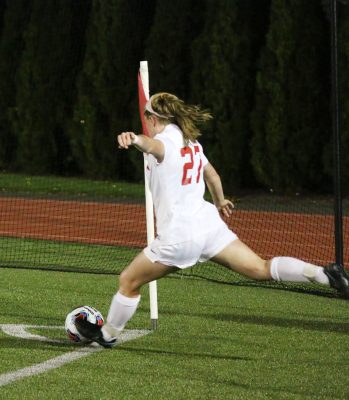 After a slow start to the season, the Boston University women's soccer team will host crosstown rival Boston College Thursday night at Nickerson Field. This Green-Line Rivalry features a formidable and undefeated Eagles (6-0) team against a rebounding Terriers (1-5) squad.
After a slate of road losses, the final three of which came within one point, the Terriers got their first season win at home against the University of Connecticut. Now, they seek to extend their streak with another victory against BC.
BU head coach Nancy Feldman focused on the Terriers' play for the game. Specifically, the Terriers have been successful recently on scoring off service, or scoring off promising passes, which she praised.
"Goals off service in the final third last game were great," Feldman said. "We want to keep working on that."
The team outshot its opponents in three of its losses and earned more corner kicks in two. Additionally, the Terriers have committed 20 less fouls than the other teams, suggesting its steadiness on the defensive end.
In the team's sole win against UConn (1-5), BU's aggression was immediate. The Terriers secured a possession at the start of the game that senior midfielder Kelly Harris converted into her first career goal in the second minute. Offensive persistence resulted in two more goals while the defensive play kept the score 3-0.
Assisting on the final goal of the BU win was sophomore forward Anna Heilferty. The 2017 Rookie of the Year has put up two goals and six points so far, again leading the team in the two categories.
However, Feldman is insistent on continued improvement.
"We need to get better at cementing our style [while] under pressure," Feldman said. "We need to maintain poise. We need to get better at using our possessions with an aggressiveness to penetrate."
In several of their losses, the Terriers forfeited deciding goals in the waning minutes of the game. BU gave up goals late in overtime during two losses against Hofstra University and Northeastern University.
The Terriers haven't been able to settle on a go-to goalkeeper, with both freshman Morgan Messner and sophomore Amanda Fay having both started in three games.
Messner has made further appearances in two games and whose 0.684 save percentage slightly improves upon the 0.545 save percentage of Fay.
In her freshman season, Fay started in 14 of the 15 games she appeared in and posted a winning record, claiming eight shutouts in nine wins.
BC is undefeated and shows no signs of slowing down. In the Eagles' most dominant win, a 5-0 blowout against State University of New York at Albany, they put up 22 shots, 10 of which were on goal, and earned a whopping 11 corner kicks.
Despite BC's record thus far, Feldman seemed unintimidated and focused on the team's agenda.
"On defense, we have to take care of our responsibilities by staying intact as one unit," Feldman said. "I'd like our team to be better at collectively delivering our services on cue."
BC's own defense is backed by graduate senior Alexis Bryant, who hasn't allowed a goal in the last five games she appeared in, building on the six shutouts she earned last season.
Quinnipiac University was the last to find the net behind Bryant in its 4-2 loss Aug. 17.  The goals came from an opportunistic snap on a loose ball atop the 18-yard box, while another was forced in from six yards out.
In the following games, her goals-against average dropped to just 0.36 while her save percentage climbed to .882.
Terrier defense will have to face down two Eagles who have already broken double digits in their point production this season, sophomore forward/midfielder Sam Coffey and fellow classman defender Gianna Mitchell.
In her freshman year, Coffey put up a total of 20 points after playing in 20 games. Six games into the 2018 season, she has already put up 14 points on four goals and six assists.
Mitchell also went through a significant growth since last season and has nearly doubled her goal production.
"It's not like we make adjustments from one opponent to the next," Feldman said. "We know they're a good team. We just continue working on what we focus on regularly."