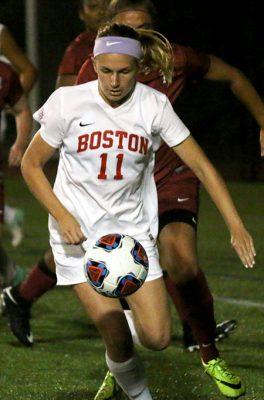 While a strong defensive showing kept Boston College from putting up more than one goal, the Boston University women's soccer team was unable to break the Eagles' (7-0) now six-game shutout streak.
The Terriers (1-6) played a limited offensive game and made only four shots on goal, all in the second half. This is the fourth year in a row that the team failed to topple its crosstown rivals.
Three of the shots came from freshman midfielder Taylor Kofton, a career-high for the Norton native.
BU head coach Nancy Feldman said she appreciated Kofton's efforts, but she saw room for growth.
"I was really happy with her performance," Feldman said. "… She has the heart of a lion. I think there are certainly things she's going to learn through the course of this year."
The return of sophomore goalkeeper Amanda Fay backed the team defensively.
Fay, who left the game against Hofstra University after a collision, made a career-high six saves.
Feldman said that, while she appreciated play, she believed that BU has three talented goalkeepers that allowed the quality of play to stay high.
"[Freshman goalkeeper] Morgan Messner did a great job," Feldman said. "Amanda has a little more game experience, and that's why she started the season … we're really fortunate to have three great [goalkeepers] and two now that have had playing experience."
Despite winning the ball off the faceoff, the Eagles dominated possession in the first moments of the game, allowing the first shot on goal from BC defender Mijke Roelfsema five minutes into the half.
Through the middle of the half, the Terriers seemed to gain better control of the ball, only to slide sideways again toward the end of the half.
A lightning storm before the game delayed its start by 44 minutes and left the field soaked, and even though the ball seemed to be sliding quick, Feldman said the players are well-adapted to rainy conditions.
"For either team, I doubt it had much of an effect," Feldman said. "I think our kids are really good at turning on the switch and knowing how to prepare themselves."
Eagles forward/midfielder Sam Coffey, BC's leading scorer, drew four corner kicks within 15 minutes after nearly 24 minutes of play.
It was off the third post-corner play that Roelfsema was able to reclaim the ball and make a second play, lodging the ball up over the goalkeeper and just below the crossbar.
After going with only one assist during her freshman year, this was the defender's first goal as an Eagle.
While BC led in shots and corner kicks in the first half, play became more even after halftime.
The Eagles still outpaced BU 10-4 in shots, the Terriers took more corner kicks.
BU has three days to refocus before facing off against Dartmouth College.
"Our goal when we play these games is to be challenged to see that we can sustain our possession and our attack against a team that's closing on you pretty fast," Feldman said. "I don't think until you see it that you can actually raise your game."