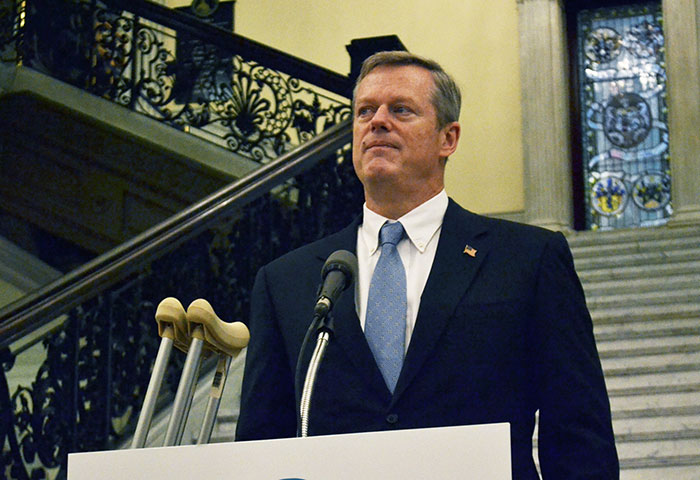 Gov. Charlie Baker filed legislation Thursday that would make it easier for law enforcement officers to detain individuals who are deemed dangerous to society while those individuals are pending trial.
Baker unveiled the act during a news conference at the Massachusetts State House in response to several crimes allegedly committed by individuals pending trial. The proposed legislation, which plans to protect the Commonwealth from dangerous people, will allow police to take individuals who violate the pre-trial release conditions without a warrant into custody.
"Recent tragedies have demonstrated the tremendous damage that can result when our criminal justice system fails to identify and detain dangerous people charged with serious crimes," Baker wrote in a letter to the legislature.
Baker was joined at the conference by the Weymouth and Yarmouth police chiefs, who had officers from their districts killed this year. This past July, Weymouth officer Michael Chesna was fatally shot by a suspect out on bail. Officer Sean Gannon, of the Yarmouth Police Department, was also shot and killed in April while serving a warrant.
Yarmouth Police Chief Frank Frederickson said Gannon's murder prompted the government to take necessary action.
"It is encouraging to see that the call for action to keep dangerous and repeat criminals off the streets that began as a result of Sgt. Gannon's murder is being taken seriously," Frederickson said in a release from Baker's office.
Under the bill, judges will be able to consider previous criminal offenses when determining the dangerousness of a person on trial.
"The alarming frequency of these events confirms that the Commonwealth needs to do a better job of holding until trial defendants who pose a continuing danger to others," Baker wrote in the letter.
The legislation additionally expands the list of offenses that would prompt a dangerousness hearing to include various sex crimes, assault of a police officer and human trafficking.
Katia Santiago-Taylor, advocacy and legislative affairs manager for the Boston Area Rape Crisis Center, said that this legislation will make way for a criminal's past to affect their present charges.
"This legislation provides for the possibility of holding serial offenders more accountable and not letting the circumstances of one case stand on their own when there is a pattern of offending behavior," Santiago-Taylor said.
While Santiago-Taylor recognizes the benefits of the legislation, she said she can also see the consequences of the bill if dangerousness hearings are misused or overused. She wants to ensure that reforms are based on "evidence-informed policy and practice."
"We look forward to working with the governor, legislators and other community-based programs as this bill makes its way toward its final form to make sure that survivors are better served and that reforms are not implemented in ways that propagate systemic racism," Santiago-Taylor said.
This act also aims to improve the system that notifies victims when an offender will be released, create a new felony offense for removing a court-ordered GPS device, allow dangerousness hearings at any point during a criminal proceeding and develop a text message system to remind defendants about upcoming court dates.
While the Massachusetts State Legislature adjourned formal session on July 31, Baker said in the conference that he hopes lawmakers will schedule future hearings for the proposal.