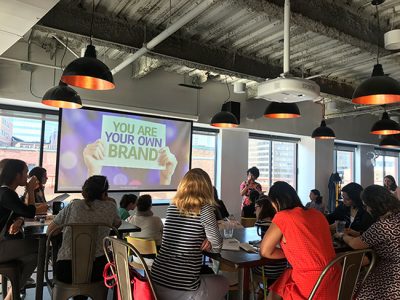 Women in the workforce lose $418,800 over the course of a 40-year career due to the gender-wage pay gap, according to a fact sheet put together by the National Women's Law Center. One workshop strove to make the NWLC's statistic a piece of history last weekend at the Boston Public Library.
The two-hour workshop was a part of the AAUW Work Smart initiative, which is hosted by the Mayor's Office of Women's Advancement and the American Association of University Women, engaged an audience on the issues of the gender pay wage gap. Work Smart offers free salary negotiation workshops for women living or working in Boston.
Starting first with some group ice-breakers, the workshop later held role play simulations and taught salary negotiation strategies. Participants also shared personal stories and techniques with the rest of the group about their struggles with workplace gender discrimination and unequal pay.
Alex Howley, program manager of the AAUW Work Smart initiative in Boston, said the event's organizers worked with the City of Boston and Mayor Marty Walsh to create the workshop. According to Howley, Mayor Walsh organized a three-prong approach for the City of Boston and partnered with AAUW to close the pay gap.
Howley said the initiative's goal is to train an estimated 80,000 working women in the city on salary negotiation techniques to lessen the gender wage pay gap. For her, spearheading the AAUW Work Smart initiative in Boston allows her to pursue one of her passions, and she expressed gratitude for the network of volunteers who help AAUW after work.
"I love doing it," Howley said. "This is why I do this job — is getting to sit in a room with women and make them walk out feeling confident to stand up for themselves at work. I could've learned it much younger, so it always feels good seeing people super nervous when they come in and feeling 'I got this' when they walk out. It's not a bad way to spend your Saturday morning."
Midali Shroff, a first-year graduate student studying computer science at Northeastern University, attended the workshop. She said it gave her a new perspective on gender-based issues in the workplace.
Shroff said she thought that the workshop was a step toward eradicating the pay gap because the women who attend learn more about what to expect when discussing pay with employers.
"It was really enlightening," she said. "This is not something that's specific really to the U.S., like wherever you do end up working in the future, it's just very enlightening to see what the different things we were not really exposed to as women."
Another participant, Monica O'Melia, who lives near Providence, Rhode Island, also thought the event was worth the early wake-up. O'Melia had first heard about the workshop through her graduate program.
"One of the professors had [the workshop] as a supplemental resource, and I think it is invaluable for anyone to attend," O'Melia said. "Whether you're job searching, you have a job offer or even if you're thinking about it, this is something that you can use in three years and come back to the workbook and still find it beneficial."
O'Melia said she thinks workshops like these play an important role in teaching women how they can fight the gender wage gap. She explained that although employers are accountable for offering fair pay, women can learn about more aggressive negotiating. Therefore, they can find a salary they find to be equal.
Howley explained that unequal pay affects more people than women in the workplace, so everyone benefits from lessening the gap.
"This is an important issue that impacts everybody," Howley said. "It's something that affects our economy. When women aren't paid fairly, it's that much less money that is put into the workforce. It affects everybody."
In her eyes, anyone can help make a difference and challenge the status quo.
"You don't have to know everything," Howley said. "You don't have to be an expert. Just talk to your friends about it."