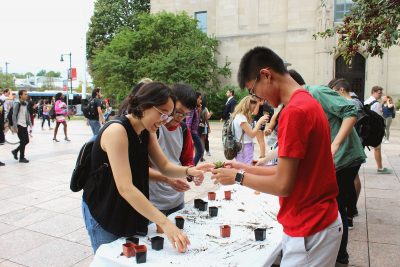 At first glance, the small but lively crowd that gathered in Marsh Plaza Friday morning might have looked like a protest or demonstration. Yet, the students clustered around a small table in front of Marsh Chapel were seeing green.
As part of Boston University's Weeks of Welcome events series, Marsh Chapel hosted its third "The Greening of the Dorms" and handed out free succulents and clay pots to students. The plants were gone in a rush within 15 minutes of the table opening.
Jessica Chicka, Marsh Chapel's university chaplain for international students, created the event as a spinoff of a similar plant giveaway the chapel hosts called "Planting in the Spirit" for Earth Day. Because the plants were bought using a limited budget, only about 90 plants were available, according to Chicka.
Marsh Chapel promoted the event on Facebook, and it gained traction quickly. By the morning of the event, the page had attracted nearly 1,000 interested students and faculty. According to the page, only 149 people reported that they attended.
Chicka managed the excited students until the event opened. By 11 a.m., a sizable crowd of students had circled around her while she explained what the plants needed in order to thrive — water once a week and access to sunlight.
Anais Han, who attended the event and is a junior in Sargent College, remarked that she felt the frenzy.
"[I'm] kind of nervous — it feels like I'm Black Friday shopping," Han said.
Han was one of the students who walked away with a plant, but Chicka said she regretted that not everyone received one.
"I wanted to be able to offer this for free," Chicka said. "I didn't want to have to charge people for it, but it is also a cost issue. I know not everyone who wanted one got one. This event gets more and more popular every time we do it. We definitely plan to do more environmental events next semester."
The box of plants almost didn't make it to the table due to a shipping confusion with United Parcel Service, according to Chicka. Fortunately, she was able to retrieve them just in time from a UPS Store.
Chicka wasn't managing the table alone. Helen Houghton, a junior in the College of Arts and Sciences and an office assistant at Marsh Chapel, helped her set up the plants and deal with the crowd.
"This is one of my favorite events to run," Houghton said. "Plus, I just love succulents. They're so cute."
The table offered clay pots to plant in, as well as paint and paintbrushes for students to decorate with if they wished. In past years, the event had provided seeds and soil for students to plant.
"I just got an apartment, and I need to decorate it with succulents, but succulents can be kind of expensive," said Katrina Codilla, a senior in Sargent. "My friends told me about the event, and that's why I came."
Chicka is committed to environmentalism herself and cites it as an important part of her philosophy.
"My personal theological perspective is really grounded in feeling connected to God through the natural world," Chicka said. "Whenever I preach, I try to put some sort of environmental message in whatever I'm saying because that's my forte and interest."
Marsh Chapel has been working on improving its sustainable efforts over the past year. According to Chicka, all the offices downstairs are green-certified as of last year, and they are working toward a program to compost food from the kitchen.
Chicka said she feels that giving students the opportunity to take care of something living can positively affect their experience.
"Healthwise, it helps to purify the air, and even though it's not an animal that can cuddle with you or anything, I think it's good for students to have a living thing that it's their responsibility to take care of," Chicka said. "It can make a living space feel less like a dorm and more like something that's your own."