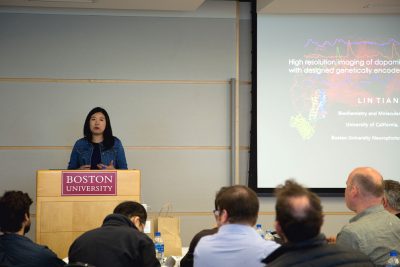 Humans have seen the depths of the ocean, walked on the moon and successfully completed face transplants, as scientists constantly push the boundaries of knowledge. Yet, one subject of intrigue and mystery persists within the minds making the discoveries.
The brain continues to be one of the most complex parts of the human body, and scientists are still trying to figure out its inner workings.
On Monday, Lin Tian, Ph.D., professor at UC Davis, and Michael Bruchas, Ph.D., professor at Washington University, spoke at the "Watching the Brain in Action: Creating Tools for Functional Analysis of Neural Circuitry" seminar at the Boston University Photonics Center.
The seminar addressed new frontier technology that images the brain from the inside. Alberto Cruz-Martín, Ph.D., professor of biology at BU, organized the talk and invited Tian and Bruchas.
"We already have a weekly seminar [in the biology department] and [have] for many years," Cruz-Martín said in an interview. "The seminars are diverse because in biology we have neuroscience, ecology, molecular biology."
Cruz-Martín said that he wanted to expand beyond the Boston area for speakers of the seminars, so he collaborated with neuroscientists from BU's biology and biomedical engineering departments to apply for funding through the National Science Foundation's Research Traineeship Program.
The program is designed to encourage innovative STEM graduate education training. Cruz-Martín and the other neuroscientists received a grant and used the funding for activities that would develop the community and environment between neuroscience and photonics.
Some money helped establish the combination of the biology seminars with the photonics seminars.
"[We wanted] to train students who are interested in neuroscience to understand more of the new engineering tools that can be applied to neuroscience," Cruz-Martín said. "We have been doing this for two years. It has evolved so much from having seminars that would be attended by maybe 30 people, but the seminar [today] had more than 100 people."
Cruz-Martín said he invited Tian to speak at BU Photonics because she has made great strides in studying the brain. According to Cruz-Martín, Tian created tools that allow researchers to see the brain from within the living body of a mouse, which then allows the scientists to monitor the inner mechanisms better.
Tian said that her lab at UC Davis has a multidisciplinary approach that includes neuroscience, protein engineering, optics and computational modeling.
Tian presented the findings of her recently published work, "Ultrafast neuronal imaging of dopamine dynamics with designed genetically encoded sensors" at the seminar.
Radhika Dhanak, a senior in the College of Arts and Sciences, said in an interview that she was interested in learning more about the methodology after reading the research abstract. She explained that the genetically encoded sensors could have potential everyday applications.
"[That can help] when it comes to anything that's related to addiction, anything that's related to anxiety, depression, schizophrenia, everything that has a marker in terms of release of neurotransmitter," Dhanak said.
Tian explained the brain consists of a very complex network of synapses that sends information between neurons. The brain also includes a mostly invisible set of neuromodulators, another substance — different than a neurotransmitter — that neurons release to transmit information to other neurons, thus changing their activity.
Scientists were previously unable to measure the release of neuromodulators in animals because they lacked the proper technology.
According to Tian, through the new possibilities with imaging, scientists will be able to understand how behavior such as learning can modify the neural circuitry dynamics.
"I think the application of sensors in model animals really opens new doors to understand the brain mechanisms underlying diseases [such as depression] and hopefully use those sensors to explore novel therapeutics [and] targeted approaches," she said.
She explained the sensors cannot be used on humans because they require fluorescence, but they can be used on model animals such as rodents, flies and fish.
Tian said she sees how these new technological discoveries play a crucial role in science.
"We have to really appreciate how much technology development can increase experimental capability, and from there we can make new discovery," Tian said. "Without technology development it's very hard for biology to move forward."