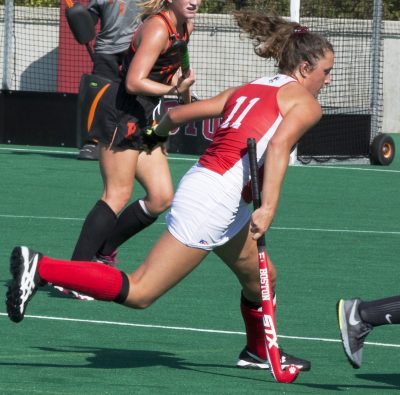 It has been a season of sweeps for Boston University field hockey.
In their opening matches during the Wildcat Classic, the Terriers (4-2) put up eight goals over two games ending in two wins.
The following week saw two losses against nationally ranked teams. Next, BU earned sweeping victories in Illinois, including an overtime win against No. 9 Northwestern University.
Now, the Terriers are traveling south to face off against its first Patriot League rival of the season Saturday — American University.
BU head coach Sally Starr said she anticipates facing a strong team in the Eagles (3-3).
"Against American, I except a strong, well-coached team," Starr said. "They've played some strong offensive games this season … and it'll be a good hockey game."
The Eagles have won by three goals in two of their wins, while their third win came during a double-overtime match against Virginia Commonwealth University.
Underclassmen have come up big for American with sophomore forward Carlotta Borcherding leading the team in goals with four.
Close behind Borcherding is freshman midfielder Georgia Davies, who has seven points with three goals and one assist.
The team has tapped in only one goalkeeper this season, senior Maura Jacobs.
Through her six starts, Jacobs has allowed an average of 2.09 goals against and made 42 saves.
Jacobs was awarded the Eagles' first Patriot League acknowledgment for the season this week after putting up two, nine-save performances against Harvard University and the University of Delaware.
Despite Jacobs' efforts, American lost both games during the Terrapin Invitational, including a 5-2 decision against Harvard (3-1).
Delaware (3-3) snatched and held onto the advantage from early in the game, scoring its lone goal of the match off a rebound after the first penalty corner of the game.
The Terriers can expect strong goaltending out of their Sunday matchup against Pennsylvania State University, who have shut out the opposing team in each of its wins.
"They have a lot of good players on that team who have shown they can produce," Starr said. "We're going to have to take care of our defensive third."
The Lions (3-2) put up its most dominant win Sept. 7 against Kent State University, a home game where Penn State netted eight goals without a mark against them.
Senior midfielder Aurelia Meijer picked up six points during the game and played her part in aiding four of the Lions' goals.
Meijer's 13 shots on-goal are also more than double all but one of her teammate's attempts.
Penn State's second largest offensive contribution comes from freshman back Anna Simon, who has a total of six points on the season.
The native of Hanau, Germany, was named the Big Ten Freshman of the Week for the week of Sept. 2 after scoring twice with penalty corners during the Lions' win against Temple University.
It was the second nod for Penn State from its conference after senior back Cori Conley was given the title B1G Defensive player of the week after assisting the Lions in keeping the University of Virginia team scoreless in Penn State's 1-0 season opener.
The Lions' defense has been backed by senior goalkeeper Jenny Rizzo, who started all five games of the Penn State season so far.
She has allowed a total of six goals in 2018 and has kept a .786 save percentage.
Four of Rizzo's allowed goals came against Duke University, the team's most recent match.
Duke (4-2) handed the Lions their first regular-time loss of the season after a battle in neutral territory.
Simon scored the opening point of the game, but the Blue Devils went on to score four unanswered goals before the clock ran out.
BU will start the road trip on a two-game winning streak after defeating Miami University and Northwestern University last weekend.
The Terriers have won every game they played away from home this season.
While the team currently has a winning record, Starr said they continue to work on tightening their play.
"We've been working on our defense … we have to stop letting these kind of easy goals," Starr said. "Offensively, we've also been working on our crosses, making sure we connect on our passes. These teams are going to play some good hockey, and we need to be consistent against them."