Boston joined the rest of the United States in formally recognizing the month of September as National Suicide Prevention Awareness Month at Wednesday's city council meeting.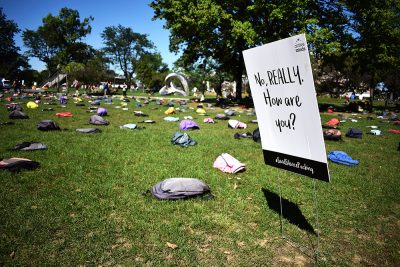 City Councilors At-Large Annissa Essaibi-George and Ayanna Pressley introduced the resolution together at the meeting. Under the resolution, Boston will recognize September as a time to assess current measures of suicide prevention and take strides in de-stigmatizing the issue.
Nadine Jean, Essaibi-George's policy and research assistant, said that, with the resolution, the Councilor's office will look further into different groups that are impacted by mental health issues to improve their current resources.
"We know that suicide is the 10th leading cause of death in the United States, claiming more than 45,000 lives a year," Jean said. "We also know that it's important to create these conversations around suicide awareness because suicide is preventable, and we need to have healthy conversations about mental illness to help break that stigma."
Suicide rates in Massachusetts have increased by 35.3 percent from 1999 to 2016, the National Center for Injury Prevention and Control reported. For individuals between the ages of 15 and 24, suicide is the second largest cause of death in the Commonwealth of Massachusetts, Essaibi-George said.
To combat these statistics and directly address the state of suicide in the Boston area, Essaibi-George told The Daily Free Press that the City is working through the City Council Committee on Homelessness, Mental Health and Recovery to hold a public hearing that will target existing mental health resources for the general public and Boston's 18,000 employees.
"A public hearing would both draw out the organizations that are doing this work so we can publicize their efforts, but then also give us an opportunity to help them both support and encourage their work or," Essaibi-George, the chair of the committee, said, "for example, to talk through some of the challenges they may be facing as an organization and how, as a city, we can better support their efforts."
Local mental health organizations will have the opportunity to come to this hearing to speak publically and provide accessible information about their mental health services, Essaibi-George said, especially to those in communities where suicide is more prevalent.
She explained that there is often a stigma attached to confiding in or reaching out to mental health professionals or just a general absence of resources. Eliminating the widely recognized issue of stigma that is associated with confiding in or communicating with others about internal struggles, she said, is a central objective of the committee.
Essaibi-George said she hopes to not only provide a safe space for discourse on suicide and mental health but to emphasize that, in general, it is OK to seek help.
"We also make sure we are supporting mental health professionals and their ability to create more access points for individuals who are looking for mental health services to identify an early onset of a mental health crisis for yourself, for a family member, a young person [or] a child," Essaibi-George said. "Part of our work focuses on people."
The creation of "on-demand" mental health services, available for anyone living or working in the Boston area, will benefit all residents, Essaibi-George said. Many instances arise, she said, where people who are going through a mental health crisis do directly seek help, but are further harmed when they are asked to wait for a long time before treatment.
Unless there is an opportunity for immediate help for someone in a mental or emotional crisis, Essaibi-George said that one's mental state can fester and become more of a risk that it would have otherwise been.
"Making sure the City is promoting services that are on demand," Essaibi-George said, "and that we're creating those opportunities and supporting the creation of those opportunities as City officials, as a City government, as a municipal government, not just for our employees, is critical."
Lonnie Stanton, 31, of South Boston, said she was in favor of the City's suicide prevention efforts.
"I think continuing to give awareness can't hurt, and it's wonderful to try and encourage people to communicate some of their most difficult and personal issues," Stanton said. "So, if it can help save lives, then why not?"
There is currently no set date for the committee's upcoming mental health hearing, but Essaibi-George said it would be announced in the coming weeks.