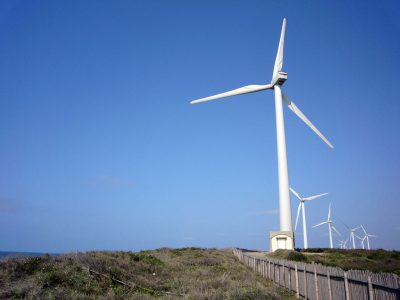 Boston University has entered a contract with utility company Engie to buy renewable wind power in South Dakota for the next 15 years as part of BU's Climate Action Plan.
An integral aspect of the CAP, Sustainability Director Dennis Carlberg wrote in an email, is to use renewable resources for 100 percent of BU's electricity needs. BU received 127 wind and solar project proposals from all over the United States, but chose the Engie proposal because it demonstrated the greatest impact on global emissions, he wrote.
BU will still purchase electricity from the New England grid, Carlberg wrote. The power purchased from Engie will be sold back to the Midwestern grid, and BU will receive renewable energy credits for buying it.
Purchasing power at the South Dakota wind farm will avoid emissions at a rate two to three times greater than a local project would, Carlberg wrote, due to the larger percentage of green power already present in the New England grid. Additionally, the wind farm would not be built without BU's participation.
The agreement with Engie will provide opportunities for both faculty and students, who will be able to take a wind turbine factory tour and an annual wind farm tour, as well as hear wind energy expert lectures, Carlberg wrote. The agreement will also put two paid summer internships in place at Engie annually.
BU President Robert Brown wrote in an email that the agreement is a major step toward BU being carbon neutral by 2040.
"Many renewable energy projects were consider during this process with the selected one making the best economic sense in its local energy market, that would otherwise be dominated by coal burning power plants," Brown wrote.  "By our action the electricity grid will have new renewable energy that is equivalent to Boston University's total electrical use today."
The process for identifying a renewable energy project was led by Dennis Carlberg and Senior Vice President of Operations Gary Nicksa, Brown wrote.
The agreement is not the only aspect of CAP, Brown wrote — BU also plans to upgrade energy and building systems to improve energy efficiency to achieve LEED, or Leadership in Energy and Environmental Design, certification for all new construction and to implement strategies to alleviate the effects of severe weather and global warming.  
The ultimate goal is for BU to become a zero-waste campus, said Anthony Janetos, chair of the Climate Action Plan Task Force and the director of the Frederick S. Pardee Center for the Study of the Longer-Range Future.
"This is only a first step," Janetos said, "but it's an important one."
One important aspect of the agreement, he said, is that it signals a fundamental change in how the university conducts itself, which may spill over into research and education.
"We're not doing this just because it's nice to do," Janetos said. "We're doing this because it's sort of a fundamental philosophical change in how we think a world-class university should behave."