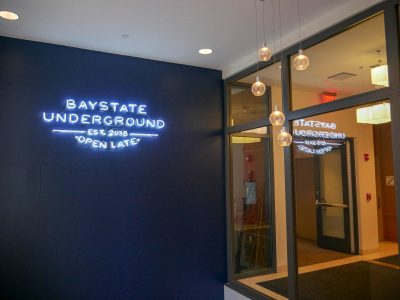 Boston University's newest dining area welcomed the long-awaited fans, both old and new, with a revamped look as it celebrated the first couple weeks in operation. Bay State Underground, located in the basement of the Yawkey Center for Student Services, is a combination of the former Late Night Kitchen and RiZe.
The new design contains rows of photos of the BU campus and alumni, blue neon signs and spacious lounging areas. The layout includes an open kitchen and living greens.
Bay State Underground's menu offers items such as spicy tuna nachos, gnocchi "poutine" and assorted shareable boards. Additionally, the dining site offered a variety of drinks from a tap, including Healthade kombucha and brews. Underground also offers Joyride Scarlet and Green teas along with its "Underground Special" — a blend of Scarlet tea and Healthade kombucha.
Underground's menu experimented with new additions, such as truffle fries, and kept popular staple dishes from RiZe and Late Night Kitchen, including molten chocolate cake and sirloin steak tips.
The menu also has a communal element and offers a variety of shareable boards for purchase. Students can customize the boards by choosing between seven spreads, six different styles of pickles, eight kinds of proteins and nine choices of cheese and bread.
All spreads are vegan and encompass a range of flavors — such as avocado edamame, sweet potato miso and eggplant tahini.
Bay State Underground officially opened Sept. 4, after undergoing intense renovations during the summer. Underground is open from 7 p.m. to midnight Sunday through Wednesday and 7 p.m. to 2 a.m. Thursday through Saturday.
Suzanne Bagnera, a professor in the School of Hospitality Administration, said the first few weeks are some of the most crucial for many restaurants and dining services, as this time period "sets the stage for the restaurant."
Dave Hernandez, a pastry chef at Bay State Underground, said he felt pressure during this transition phase.
"I was busy just getting everything up to par," Hernandez said. "We were last-minute crazy because of the people doing last-minute alterations and decorations out there. The menu had been prepped adequately ahead of time, so we were ready. We weren't sure if the outside was ready."
However, Hernandez said he was pleasantly surprised by the way the first week unraveled and felt all-in-all that it was smooth.
Arnold Armas, a junior in the College of Arts and Sciences and a former Late Night Kitchen and RiZe frequenter, said that as a customer, he enjoyed the establishment's changes.
"The service is pretty good, and I like the food," Armas said. "I also like the fact that the place is set more like a restaurant now."
However, some visitors thought otherwise. Aesha Gandhi, a junior in the College of Engineering, is one of the critics — she said she was unsure of the current ordering system.
"I like the lounge area at the Underground and how it's set up because it gives a place to hang out with my friends," Gandhi said. "It's chill. But the actual place and how the ordering is set up, it reminds me too much of the food court at GSU with the system where they take your order at the front. I'm not sure if I like that."
Gandhi specifically criticized the lack of variation on Bay State Underground's menu. RiZe offered a range of pastries, and she felt Underground's options were lackluster. Gandhi also said Underground's hours are inconvenient because they are only open at night.
"It's those little things I miss," Gandhi said.  
Armas said he was disappointed at the removal of crepes from the establishment's menu because he often went to the old restaurant for the crepes. He said that he hopes Bay State Underground considers adding crepes back to the menu.
Baganera said she questioned whether the menu changes were strategic and hoped Underground kept students' wishes in mind.
"Perhaps the new concept didn't fit with the guests' demands," she said.
Bagnera suggested Bay State Underground should track promotions and events popular with students to help maintain the buzz around the renovations and bring in more customers.
"Use discounts, karaoke nights or whatever form of entertainment to keep the interest at the peak level,"  Bagnera said. "It's about giving them excitement for them to come back to remain successful."