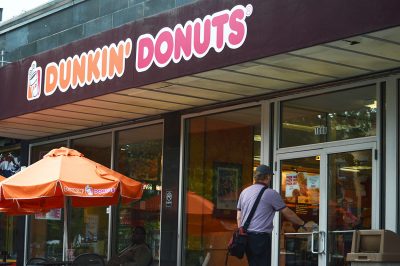 Early on a drizzly Tuesday morning, Boston residents filtered in and out of the Dunkin' Donuts in Kenmore Square with their hoods up and coffee in hand. Some just popped in to grab their morning dark roast, while others took a seat inside to catch up with friends and enjoy that freshly-brewed coffee scent.
Nicole Miller, a 38-year-old Brighton resident, was among those quickly dipping in to pick up a coffee, something she said she does frequently.
"I'm loyal to Dunkin' Donuts," Miller said. "I like it better than Starbucks. Starbucks to me tastes like it's burned or something."
Not far away in City Hall, another Dunkin' location was taking on the morning bustle as well. The same sleepy-eyed residents, pink-frosted donuts and sweet caramel syrup scent filled the room. Only here, there is no Dunkin' Donuts to speak of.
The sign outside reads only, "Dunkin'."
Before the end of the year, 29 more of Boston's beloved Dunkin' Donuts locations will undergo the same transformation: dropping the "donuts" in favor of the company's "next generation design concept." The plan was announced Aug. 21, with City Hall's Dunkin' as Boston's first renovated location.
Miller, who said she really only comes to Dunkin' for the coffee, hopes they won't change too much about her favorite coffee spot.
But David Hoffmann, Dunkin' Brands CEO and President of Dunkin' Donuts U.S., said that a commitment to modernization was vital to the brand.
"I am incredibly proud of the commitment being made by our franchisees to transform 30 Dunkin' locations in Boston to our next generation store design," Hoffman said in the press release. "There's no city where our brand heritage is stronger than Boston."
That's why it's fitting, Hoffman said in the release, to choose Boston as the city to raise the bar on "convenience, personalized service and technologies, and of course great coffee served fast."
According to a Dunkin' press release, the remodeled locations will be brighter, featuring more natural light and lighter-colored materials. Also, instead of having donuts and pastries sit behind the counter, renovated locations will bring in a front counter bakery case to bring the baked goods closer to the guest.
All cold beverages will also be on tap, which Dunkin' says will allow "crew members to act as bartenders serving guests refreshing options," including a new Nitro-infused Cold Brew Coffee, according to the release.
And for those on the go, a new mobile order pick-up station will allow customers to order their coffee on their phone and pick it up in-store without having to wait in line. Additionally, a digital order tracker will allow customers to monitor the status of their orders in real time, according to the release.
Making coffee runs easier for on-the-go customers was a top priority for the remodeling, said Clayton Turnbull, founder and CEO of The Waldwin Group, an independently owned and operated franchisee of Dunkin' Donuts.
"Our next generation restaurants, specifically designed for busy customers on the go and a great option when they need to stop and take a break from it all, will keep Bostonians running on Dunkin' now and long into the future," Turnbull stated in the release.
But, like Miller, some Bostonians expressed some resistance to the possible changes to come.
Milton Borrero, 57, of Hyde Park, said he didn't see a need for the makeovers.
"As long as I get the same coffee," Borrero said, "I don't mind."
Some regular customers, including Ciaran McDonough, a sophomore at Emerson College, said they had stronger feelings.
"I saw it happen down on Boylston," McDonough said. "They had the Dunkin' and I was like, 'Well where's the Dunkin' Donuts?' Dunkin' Donuts is an institution. I'm a true Bostoner, alright?"
McDonough said the name change is "completely stupid."
"Put that Donuts back on there," he said. "I want my double d's. Give me Dunkin' Donuts back."
As the 30 Boston Dunkin' locations undergo their renovations this fall, the company announced that $1 from every beverage sold on re-opening day at each location will be donated to The Greater Boston Food Bank, according to the release. To jump-start the project, The Joy in Childhood Foundation, which is supported by Dunkin' Donuts, presented GBFB with a grant for $100,000 over three years at the grand opening of the remodeled City Hall Dunkin'.
Jessica Crimmins, senior director of marketing, communications and public affairs at The Greater Boston Food Bank, said she was happy to be partnering with a brand like Dunkin' that is "both a local and a national brand."
"It's a very strong partnership," Crimmins said. "They see how we're fighting hunger in so many cities across eastern Mass., which their footprint is very penetrated in. A lot of these stores are owned by franchisees, and all those franchisees are also giving their support and using their leadership to say, 'We want this money going to The Greater Boston Food Bank'."
With the remaining renovations set to be completed by the year's end, residents can expect to see some changes very soon to their local Dunkin', whether they like it or not.