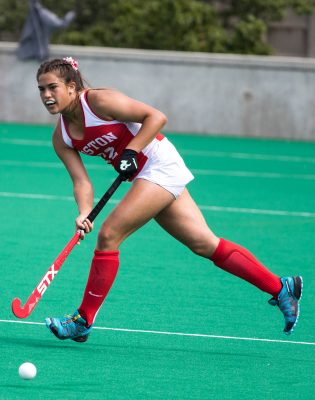 The No. 21 Boston University field hockey team will face off against its second Patriot League foe of the season, Colgate University, Saturday on New Balance Field.
While the Terriers (5-3, 1-0 Patriot League) forced an overtime win in its first Patriot League game against American University, they have yet to win at home.
After last weekend's split series, BU head coach Sally Starr expressed the need for the team to strengthen defensively.
"Our footwork was sloppy," Starr said. "We have to be better defensively, in our defensive third."
The Terriers have only dropped one game in its record against the Raiders (2-5, 0-1 Patriot League).
On Sunday, Colgate was shut out by Bryant University for a score of 0-2.
The two teams shared similar stats throughout the match, with Bryant (2-6) earning one extra corner and two extra shots on goal.
Goalkeepers on both teams made four saves, with Raider freshman Anna Unger playing her fifth full match of the season.
Unger has allowed an average of 3.19 goals against and a .612 save percentage.
Sophomore forwards Taylor Casamassa and Nora Mulroy led their team in attempts, with Casamassa putting up three shot attempts through the game, two on-goal, and Mulroy collecting her team-leading eighth shot on-goal.
The match was Colgate's fifth consecutive loss, including three shutouts and a 2-22 goal differential.
The Raiders dropped their first Patriot League match of the season 0-6 against Bucknell University Saturday.
Bucknell (4-3, 1-0 Patriot League) dominated in every category other than saves, including a 25-6 shot differential and 11 more corners than Colgate.
Bison forward Brittany Willwerth scored a hat trick during the game, earning her the title Offensive Player of the Week from the Patriot League.
Bucknell is second only to the Terriers in Patriot League field hockey rankings.
Two Raider goalkeepers saw play during the game, including Unger, who allowed all six goals and made two saves, and sophomore Emma Goldberg, who made four saves.
The number of saves is the only category where Colgate outperforms its opponents, currently holding at 42-33 saves on the season.
Colgate's second win and only multi-goal game came against Long Island University Brooklyn.
While the Blackbirds struck first in the 42nd minute, Mulroy responded in under two minutes from within the shooting circle.
Freshman midfielder Olivia Krogermeier went on to score the game-winner off a deflected shot.
Mulroy and Krogermeier are the only Raiders to have scored goals so far this season.
Unger blocked seven shots in the team's first two games of the season, who along with Krogermeier, earned Patriot League acknowledgments after the two wins.
The most recent Patriot League goalkeeping honoree is BU's senior Kathleen Keegan, who has started in all eight games of the season.
"She's looks amazing out there," Starr said. "Her play has developed phenomenally."
Despite the recent 0-4 loss against Pennsylvania State University, during which Keegan made a career-high six saves, she currently holds a goals-against average of 1.80.
When the Terriers last faced Colgate, they claimed a 5-1 victory while in Raider territory, including two from then-junior fullback Ally Hammel.
Senior fullback Maika Akroyd also earned her first goal at BU that game.
The native of Gisborne, New Zealand, has three points on the season, leads the team in shots and is tied in shots on goal with her countrywoman, sophomore forward Petra Hall.
Hall is third on the team in points with eight, including a game-winner during Saturday's match against American University.
Leading the team in points is sophomore forward Ailsa Connolly of Auckland, New Zealand, whose offensive production has put her at the head of the Patriot League in points and goals.
With clear leaders on the attack, Starr said her focus remains on the defense after last weekend's series.
"Definitely we have to work on our defense," Starr said. "We've giving up too many corners … these errors are ending in goals we can't get back."