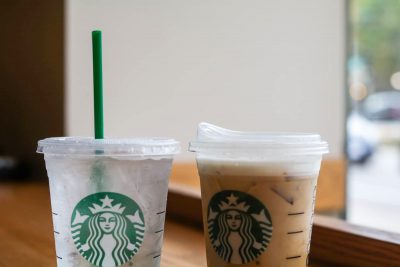 The "Be Straw Conscious" initiative pioneered by the Boston University Sustainable Ocean Alliance will go into effect across all campus dining halls this winter.
The initiative will result in all plastic straws being phased out from distribution in favor of limited stocks of paper straws, which will be available upon request.
Straws are a "gateway" into speaking about ocean pollution as a whole, Emy Kane, digital strategist for Lonely Whale, a foundation that focuses on advocating for ocean health, wrote in an email.
"… Straws help start a critical conversation around consumption and also provide a template of behavior change for both individuals and organizations to embrace and then model further plastic reduction off of," Kane wrote.
Now, the movement has officially reached BU. Taylor Mann, a junior in the College of Arts and Sciences, founded the BU chapter of the SOA last winter after connecting with Lonely Whale at the "Strawless In Seattle" campaign.  
"When I read about [Lonely Whale], I reached out to them and asked how I could get involved, and they told me about a youth-led organization called the Sustainable Ocean Alliance," Mann said. "That is when I started the club on campus, and then the straw initiative immediately became our focus last semester."  
Campaigning at the George Sherman Union, the BU SOA collected over 1,200 signatures supporting the initiative in under a month. They presented their findings to BU Dining Services and BU Sustainability, Mann said, who then began to work closely with the SOA to make the initiative a reality.
Mann said she was excited that these groups were extremely willing and committed to collaboration with the SOA.
"They started bringing us into their meetings about how we can actually make this happen," Mann said. "Then, this summer, they announced they would fully be making the transition across campus to paper straws in the next school year."
Plastic straws are still available in all dining halls as of Sept. 18, and they will continue to be offered until their supplies are exhausted. Once these are gone, paper straws, which Mann said she believes will arrive no later than this winter, will be available upon request.
These changes can already be seen in fruition at the GSU, where eco-informative signs adorn stations offering the last of their remaining plastic straws. The signs read, "Sip Smarter: Skip The Straw. Turn the tide on plastics in our oceans. Eco-friendly straws available upon request."
Many are excited to see these eco-friendly changes hitting campus. Peter Fox-Penner, director of the BU Institute for Sustainable Energy, wrote in an email that he even believes the campus can do more.
"Single-use plastics should be discouraged and plastics should be completely recyclable or biodegradable," Fox-Penner wrote. "Obviously, plastic straws that can't be recycled or biodegrade violate these principles. It's fine to start with straws, but why stop there?"
Such energized responses to the campaign have not been uncommon, Mann said. While she was emailing professors during the signature campaign, many of them told her they had forwarded her message to all of their colleagues in their department.
Mann has also heard her share of objections from people, but she said she feels offering paper straws will help to quell some grievances with the initiative.
"For some people, [resistance to going straw free] is a germ thing," Mann said. "But, personally, if I'm going to eat at a restaurant, and I'm using the utensils they are offering, I would hope that their cups are just as clean, if not more sanitary."
Some individuals prefer straws for more cosmetic purposes, such as wanting to avoid smudging their lipsticks on glasses, Mann said, but she said she feels the offering of paper straws will help to calm such issues with the initiative.
Straws are vital tools for individuals who living with impaired muscle movement and control, helping them maintaining their independence, safety and dignity, according to the Center for Disability Rights.
For this reason, Mann said, paper straws will continue to exist on campus.
"We don't want anyone to feel judged or alienated or anything like that," Mann said. "If you need it or want it, [a paper straw] is always there."
To her knowledge, Kane said BU will be the first university to fully phase out plastic straws.
"We're excited to see BU embrace this initiative and work to implement the program throughout its owned and operated dining facilities," Kane wrote.