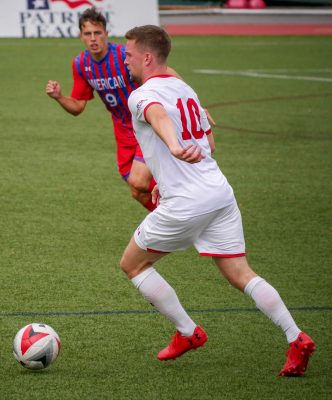 After opening Patriot League play this weekend with a win, Boston University men's soccer will start the week by hosting the Ivy League's Brown University at Nickerson Field.
With a recent Ivy League road trip that ended in a 0-2-1 record, the Terriers (2-4-2, 1-0 Patriot League) will look to put up a win against the conference.
BU head coach Neil Roberts spoke to the team's fighting attitude.
"The guys battled," Roberts said. "They've been battling all year. [Against American University,] they managed to keep the second ball out, and that was good."
Brown (3-3) is coming in after winning its first road game of the season, which broke a three-game losing streak.
The Bears beat the University of Rhode Island, which had a perfect 6-0 record going into the game, 1-0 in overtime.
Junior midfielder Matthew Chow scored in the final minute of the second overtime period to pull off the upset.
Brown's goalkeeper, sophomore Max Gross, made six saves for a new career high.
As a freshman in 2017, Gross sat behind then-senior Joey Cipicchio who posted a record 8-6-3 including six shutouts, allowing just 14 goals.
Freshman goalkeeper James Swomley started out the year in net for the Bears, but the Newton native was benched for the first time this season at halftime in the loss against the University of California Irvine Sept. 16.
In his first two games at Brown, Gross has not allowed a ball to get past him.
Last year in Providence, BU was defeated 2-1.
Sophomore midfielder Toti Knutsson tied the game in the 78th minute with his first collegiate goal, but the Bears responded a little more than a minute later with a goal by senior striker Toby Howell.
The win vindicated a loss two years ago, where the Terriers beat Brown 2-0.
In the all-time series in the battle of BU, the Bears holds a 24-15-4 advantage.
Like Brown, the Terriers will be entering the contest off of a win where sophomore forward Austin D'Anna and junior midfielder Satchel Cortet each scored in a 2-1 victory.
"I like the way we fought," Roberts said. "We kept our lines tight, so it was difficult for them to get anything really clean."
The goal made it two straight games with a score for D'Anna.
Cortet had not registered a goal since last year's win against the team's third-to-last match in the regular season against the United States Military Academy.
Senior goalkeeper Mike Bernardi also came up with four saves, enough to preserve the one-goal lead.
While the team came off the field with a conference win, Roberts said the team could have worked harder to solidify its play.
"We didn't concede a second goal," Roberts said. "I'm going to have to say they did just enough to keep it out."