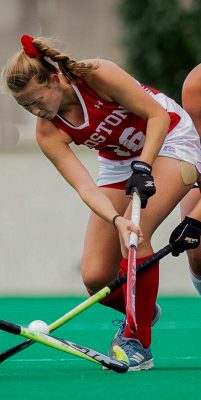 On Saturday afternoon, the No. 21 Boston University field hockey team defeated Colgate University at New Balance Field, with a final score of 2-0.
After winning the conference opener against American University and then losing to Pennsylvania State University last weekend, the Terriers (6-3, 2-0 Patriot League) secured a 2-0 start in Patriot League play by defeating Colgate (2-7, 0-2 Patriot League).
Despite the win, BU associate head coach Sarah Shute said she saw some things she was not too pleased with.
"I think that we made it really hard on ourselves today," Shute said. "I don't think we came out with the intensity that we could have come out with."
The Terriers pushed hard against the Raiders, scoring both goals in the first half while outshooting Colgate 12-1 in the first 35 minutes.
Just 12 minutes in, freshman midfielder Rebecca Janes scored BU the first goal of the game, which was also her first goal with the Terriers.
Janes was able to redirect a pass from sophomore forward Miya Denison after Denison collected her own rebound after her initial shot was blocked and found Janes for her first collegiate goal.
Later in the half, the Terriers struck from a corner, as senior forward Kara Enoch notched the assist by redirecting the corner for sophomore midfielder Petra Hall to score her fourth goal of the season.
Though critical of the intensity of the team, Shute also praised their performance.
"They did some really good things," she said. "There were some passing sequences that [went] absolutely really well. I think it's great that we got the win today, but I definitely think that we could've come out with a lot more intensity and urgency."
In the second half, BU missed chances to score as Colgate's defense, including freshman goalkeeper Anna Unger who made 10 saves in the game, were able to stifle the Terrier offensive.
However, the Terriers were also able to keep the Raiders off the scoreboard as well, as Colgate was only able to register one shot on goal for the game.
The Raiders made one final push against BU in the last 10 minutes, getting off three shots and sending in five corners, though they failed to score.
Overall, the Terriers would end up firing off 19 shots while earning 11 penalty corners during the game.
Regarding comments about the team's defensive shortcomings in the last game against Penn State (6-3) by BU head coach Sally Starr, who could not attend the game, Shute noted that the team held an impressive defense for most of the game.
"We kept them out of our circle for a good majority of the game," Shute said. "I think right at the end, we let up a little bit because they were able to get some corners and get some shots off, but for the most part, they did a good job of keeping them out of our field."