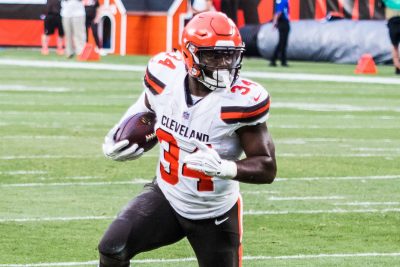 Chris Carson
The Seattle Seahawks' running back was perhaps my favorite value pick in all of fantasy football this year. Initially, this was looking like a botch by me, but Carson's performance last week has reignited my belief.
Pete Carroll had told the media that Carson was his guy heading into the season, and, after Week 1 and in Week 3, this truly came to fruition. A 2017 7th round pick out of Oklahoma State, Carson finally got his "starter carries" last weekend and was the clear lead back ahead of Rashaad Penny, out-touching him 32 to 3. At the end of the game against a fair Dallas Cowboys rush defense, Carson totaled 124 yards and a rushing touchdown that came from five yards out.  
Heading into Week 4 against the Arizona Cardinals, the Seahawks will definitely look to get Carson trending upward as the offensive line continues to struggle pass blocking for Russell Wilson. Luckily for Seattle, they get to face the Arizona Cardinals who are, by far, the worst-coached team in the NFL.  
As of Week 3, the Cardinals have surrendered the most fantasy points to running backs and were burned by Adrian Peterson, Todd Gurley II and Jordan Howard respectively.
As for Carson, expect him to put up at least RB2 numbers this week with a chance for low RB1 numbers. He should earn at least 20–25 carries despite his heavy workload in Week 3.
WEEK 4 PREDICTION: 22 carries, 100 yards, 1 TD, 2 receptions 15 yards.
Carlos Hyde
Now with Baker Mayfield running the offense, look for Hyde to become an every week strong RB2 if you didn't think he was one already.  
Tyrod Taylor is an OK starting quarterback — and in all honesty, Mayfield may not be the greatest either — but expect this offense to turn into a higher-powered and efficient unit. Last week, Hyde scored twice — both times after Mayfield checked into the contest.
In a juicy matchup against a struggling Oakland Raiders, the former Ohio State Buckeye will be a no-doubt RB2 with the potential for RB1 numbers. If Hyde is able to score again, he may earn consideration to be a top-five floor play in all of fantasy football.
The touches are there and it appears the entire package is coming.
PREDICTION: 20 carries, 75 yards, 1 TD, 1 reception 10 yards.
Chris Godwin
I drafted the Tampa Bay Buccaneers' wide receiver in two of my three leagues this year. Both times, he was my 14th round pick. Did I expect this? No.
Hopefully, Dirk Koetter and his staff realize the production of Ryan Fitzpatrick and allow him to start over Jameis Winston in Week 4.
Godwin displays a nice all-around game that Fitzpatrick has locked onto early. Despite dropping two passes in Monday night's showdown against the Pittsburgh Steelers, the former Penn State product bounced back and finished the game with five catches on ten targets for 74 yards and a touchdown. Incredibly, Godwin has caught a touchdown in all three games this year and will try to keep it going against a solid Chicago Bears' secondary.
Unlike the previous two players, I don't expect a "big" game in Week 4, but I do expect Godwin to draw a solid amount of looks.
Of course, if Winston plays, Godwin is a total wildcard considering he and the controversial quarterback never established any real rapport last year.  
Assuming Fitzpatrick plays…
PREDICTION: 5 receptions, 50 yards, 1 TD.