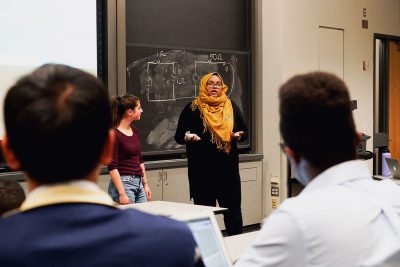 Boston University's Student Government met Monday night to confirm directors for two committees and to hear from the debt awareness group Up to Us.
SG President Devin Harvin addressed the senators to express his excitement about the coming year. He said he expects more senator participation in the future and hopes to see senators commit to doing a full year of service on the senate, as interest in SG has increased across BU.
"The student [government] email has been nonstop since we got back on campus, and a lot of people are interested on how they can get involved," Harvin said. "The movement is you all."
In a recent meeting with the E-board, BU Dean of Students Kenneth Elmore expressed concern about student participation in SG, Harvin said, specifically over the amount of freshman participation in student government. Senate currently appoints most of its positions, rather than holding elections.
"You all earned your spot in here," Harvin said. "So we don't want to punish you guys taking initiative to be involved, but [Elmore] is on my back about figuring out how we can keep freshmen involved in student government."
Senate Chair Andrew Chiao said he agrees with Elmore's anxieties and explained how the senate will be working to increase senate involvement opportunities to freshmen in the future.
"Freshman participation is really important because we have so many people that are really interested in getting involved," Chiao said. "I think that's something that we're going to reach out to all the college governments about and make sure we touch base on how we do things."
The senators voted on appointing committee directors for the mental health committee and 16,000 Strong, a campaign against sexual assault and violence.
Mercedes Muñoz, a sophomore in the College of Arts and Sciences, and CAS senior Francis Frimpong were elected as co-directors of the mental health committee. Both Muñoz and Frimpong spoke about the importance of creating an open dialogue about mental illness.
"I believe in normalizing mental health on campus," Muñoz said. "It's something that I see, and I'm sure you see around, and instead of trying to put a little bit of humor in it and joke about it, I think we should be trying to treat it as a priority."
CAS seniors Lul Mohamud and Nora Stolzman were elected as co-directors of 16,000 Strong, a committee focused on educating, empowering and uniting students against sexual assault.
Mohamud and Stolzman spoke about their work on creating a proactive culture around consent at BU. They said the group had created presentations dismantling rape culture in the past year.
The group has already given the presentation to Zeta Beta Tau, Stolzman said, and hopes to deliver presentations to more fraternities and sororities in the future.
Abby Partnow, a sophomore senator in CAS, said she thinks the mental health committee and 16,000 Strong are doing good things for BU.
"I personally would like to get more involved with the mental health committee because I'm very interested in the opioid crisis and I would love to see how they would approach that from a mental health perspective," Partnow said, "and so I'm going to definitely try to work with them closely and advocate for their support, and especially 16,000 Strong as well."
Up to Us spoke to the senate about their initiative to raise awareness for fiscal policy and its importance, especially relating to the national debt. The group wanted senators to pass along an online signature pledge to their constituents that would alert elected officials that young people cared about these issues.
Up to Us is a nationwide movement to raise awareness about U.S. debt, according to its website. The group hosts a challenge that includes gathering student signatures, and winners of the the challenge receive $10,000.
Akshat Mehta, a junior in the Sargent College of Health and Rehabilitation Sciences and a student life representative in the senate, expressed doubts about the pertinence of the group's concerns to BU students.
"BU [is] a very expensive school and [students] have to budget their own money … so they're probably going to be worried more about their own debt and college loans compared to the country debt," Mehta said.
Jon Aracena, a sophomore senator in the College of General Studies, said that while he thinks Up To Us had good ideas, he is wary of the group's goals.
"I'm not so sure what they will do on campus exactly right now," Aracena said. "It seems from the initial presentation that they just want to win a competition. I don't think they're gonna get anywhere by just winning a competition, they really have to get the student body active and vocalize the opinions of everyone."
Audrey Martin contributed reporting.
CORRECTION: A previous version of this article stated that it was President Robert Brown who was concerned about freshman participation in Student Government. It was Dean of Students Kenneth Elmore who expressed this concern to SG, not Brown. An updated version of this article reflects this correction.