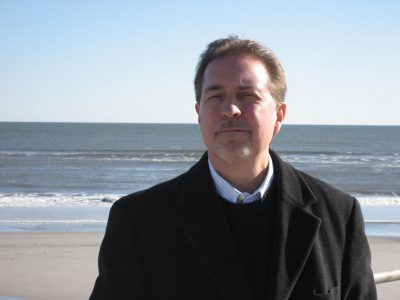 Students and faculty gathered in solidarity Thursday to celebrate and remember the life of writing lecturer Anthony Wallace, who died unexpectedly on May 16. Those in attendance exchanged memories of Wallace, and the latest edition of "WR: Journal of the CAS Writing Program" was dedicated to the late faculty member.
WR announced that in honor of Wallace, former lecturer in the College of Arts and Sciences' writing program, the writing program had created "The Tony Wallace Award for Writing Excellence."
The journal exhibits students' work professors thought were exemplary from classes. The last student essay advised by Wallace will appear in "WR" in the recently released Issue 10.
Kimberly Shuckra-Gomez, WR's editor and lecturer for the writing program, wrote in the Editor's Note that Wallace was "a committed teacher and writer who gave so much of that needed response to a countless number of students."
The CAS Center for Writing organized the memorial for Wallace's wife Allene, former students and colleagues. Natasha Vohra, a junior in CAS, spoke at the gathering and reflected on book swaps and lighthearted talks in hallways with Wallace.
Vohra also shared how Wallace had helped restore her confidence.
"Everyone had their own stories to share, " Vohra said in her speech, "and everyone's memory about professor Wallace is so similar."
After the memorial, Vohra described the evening as "beautiful."
"I'm surprised by how light the event still was," Vohra said in an interview. "Everyone was sharing Wallace's jokes, these funny anecdotes."
William Marx, who coordinated the memorial and was a longtime friend and colleague of Wallace's, gave a speech and shined light on his legacy. He spoke about how the two created the Theater Now program in the CAS writing seminar program.
According to Marx's speech, they intended to bring students outside the classroom to learn about writing by attending three Boston theater productions each semester, as well as talks and meetings about the background of the play.
He said they had a good time working together on the project and often laughed at themselves, specifically at Wallace's enthusiastic summaries after theater excursions.
Marx recalled that Wallace received an email years after the program's launch thanking him for including theater and that Wallace knew little about theater before the program's launch.
"He became a sharp observer of plays — almost overnight," Marx said in the speech.
James Robson, a junior in College of Engineering who is minoring in musical performance, said Wallace greatly affected his time at BU because he chose to pursue music after hearing the professor's encouragement.
Robson said he applied for a scholarship and asked Wallace to write a reference letter. Wallace not only wrote the letter, but called the committee on his personal behalf to recommend Robson, concerned that they might miss a brilliant student, according to Robson.
"Insert any positive word," Robson said regarding Wallace's influence on him.
Robson's story resonated with Marcella Mazzenga, a senior in CAS, who remembered how Wallace supported his students.
"[Wallace said], 'You have to study what you like, since you have to do it for the rest of your life," Mazzenga said.
Wallace also taught writing seminars outside of theater, such as American literature. Eli Saracino, a graduate student in CAS, said he was inspired to buy back the books used in his undergraduate WR150 course, taught by Wallace, in order to remember his time with the professor.
"[I bought them] so that I could go back and look at them," Saracino said. "This genre has never been on my radar, but becomes one of my favorites."
Recently, he said he also started reading "The Old Priest," an award-winning short story collection written by Wallace.
The book referenced Wallace's own experiences working in a casino before he came to BU and won the 2013 Drue Heinz Literature Prize.
"I like it a lot," Saracino said. "It's sad, it's humble and it's very metafictional. He writes 'The Old Priest' in second person, not like anywhere else."
Saracino is halfway through the "The Old Priest" and said he plans to finish the collection.
"It's really insightful," Saracino said. "It's almost like reading it, and you're catching up with him. I started reflexively thinking when I'm reading them, 'Oh, I wonder what this means.' I wish I could ask him."