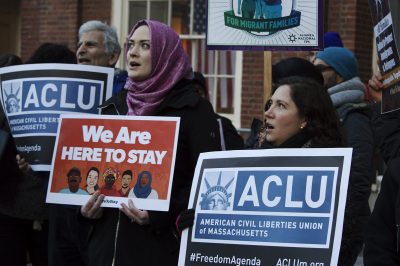 The Trump Administration proposed a new policy Saturday that prevents many U.S.immigrants who depend on public assistance programs — like food stamps — from obtaining permanent residency or U.S. citizenship. Several Boston-based organizations and residents were vocal in their opposition to the new proposal.
The policy is being put in place to promote self-sufficiency with immigrants so they are not reliant on public benefits, according to the official press release from the U.S. Department of Homeland Security. The statement also explains that the policy will save American taxpayers from paying for public assistance programs.
Homeland Security Secretary Kirstjen Nielsen said in the release that the policy is meant to ensure immigrants do not become "burdens" on American taxpayers.
"Under long-standing federal law, those seeking to immigrate to the United States must show they can support themselves financially," Nielsen said.
The Massachusetts Immigrant and Refugee Advocacy Coalition released a statement explaining the new policy and how it would affect immigrants who reside in Massachusetts.
The regulations would expand the definition of public charge, or "someone who is dependent on government benefits and thus may be denied a green card," if the policy were to be enacted, according to the statement. Such an expansion would include individuals who require long-term care and those who rely on "safety net" programs.
MIRA also stated that the new rule is not retroactive. There will be a 60-day grace period for immigrants once the 60-day period for members of the public to comment on the policy has ended, the organization explained in its statement.
"This means that the earliest that immigrants would need to withdraw from programs to avoid being penalized would be in 120 days, but they should consult with their immigration counselors or attorneys before making a decision," the statement read.
Executive Director of the MIRA Coalition Eva Millona said that the proposal is a "toxic blend of nativism and class warfare."
"It is overtly discriminatory, and we will fight vigorously to ensure that it is never adopted," Millon said in the statement.
Oren Nimni, a civil rights fellow who has represented immigrants at the Boston-based Lawyers' Committee for Civil Rights and Economic Justice, said in an interview that the new policy will force immigrants to decide between whether they want to receive life-saving public benefits or permanent residency.
"The policies are going to damage immigrants in Massachusetts to an extreme extent," Nimni said. "They're going to make everyone's lives much harder. They're also going to trap people in a limbo where they're never going to have access to any more permanent citizenship."
The Lawyers' Committee released a statement criticizing the new policy and claiming it is unconstitutional. According to the statement, the federal government is using public assistance to attack immigrants of color.
"The proposed policy is cruel because it will penalize hardworking families who experience even a brief period of hardship," the statement read. "In tough times, families and children need access to life-saving programs and services."
Trump' policy has the potential to adversely affect immigrants in Massachusetts, the statement read, even though the state already has existing protections and health coverage for immigrants.
Karen Trop, 25, of Allston, said she thinks the new policy sounds "xenophobic" and that everyone should have access to public assistance programs.
"It sounds like people being afraid of something when it seems like it's not really about that," Trop said. "It seems like they just want to blame other people, and it seems sort of more about personal benefit and profit than anything related to people gaming the system."
Trop said the United States has a great opportunity to benefit from the diversity that immigrants bring to the country and that she does not think immigrants come to the United States to "freeload."

Jennifer Rizk, 44, of Brighton, said she thinks non-citizens should still be able to have access to these services, particularly children.
"I don't think people that aren't residents should lose out," Rizk said. "I don't think that decision is right."
Joel Lau contributed to the reporting of this story.