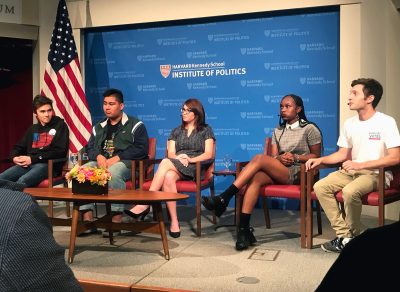 A panel of youth advocates, including school shooting survivor and March For Our Lives co-founder David Hogg, brainstormed ways to engage youth voters at Harvard University's Kennedy School Monday, the eve of National Voter Registration Day.
The forum was organized by the Harvard Votes Challenge team, a group of students who volunteer to assist in the Kennedy School's participation in the universitywide challenge aimed at encouraging more young people to vote, and featured a variety of young advocates of different political backgrounds who had been advocating for youth voter registration in their respective states.
In addition to Hogg, the panelists included Co-Chair of the College Republican National Committee Jessica Browning, Milwaukee Youth Council Rep. Bria Smith and activist Johnathan Rangel of 99Rootz, a California-based youth leadership organization.
Teddy Landis, a junior at Harvard and student chair of the Harvard Public Opinion Project, moderated the event.
Landis started the night by stating that less than 24 percent of Harvard students reported voting in the last Massachusetts midterm election. The statistic sparked an hourlong discussion about how to increase youth voter turnout and participation in local politics.
Harvard master's student Chelsea Raubenheimer, 28, said she attended the discussion to learn about how to engage non-voters.
"I'm really interested in getting people who do not traditionally vote to get out and vote. I'm excited to hear what David Hogg specifically has to say about the issue," Raubenheimer said.
Hogg, a survivor of the Marjory Stoneman Douglas school shooting in February, said in the discussion that politicians need to connect with youth voters if they want their votes this fall.
"Candidates that actually represent their own communities and not corporations can actually represent people's own interests and inspire young people to get out there and vote," Hogg said.
He explained that inclusion is crucial in the youth engagement movement, reminding the audience that, "the movement includes all voices, all different organizations, all different sexes and all races."
Smith mentioned that civic engagement programs often went underfunded in inner city schools and cited this as the reason youth in her home city of Milwaukee and the local government are so divided.
"If youth feel underrepresented," Smith said, "they won't see a point in going to the polls."
To excite and engage young voters, Rangel explained in the discussion that he educates his community on important issues, such as the spreading of agricultural pesticides in Parlier, California. Rangel said he focuses on pre-registering and registering minors after educating them on the issues. He has assisted in pre-registering 40,000 California youth, he said.
To pre-register, 16- and 17-year-old individuals fill out voter registration documents, "so when they turn 18, they are automatically registered to vote," Rangel said about the process.
Along with his voter registration work, Rangel explained in the panel discussion that he has also led the process of registering students in his high school government classes. He said the process in each class only took 30 minutes, and to pre-register his whole school, it took less than a week.
Engaging young voters is something Browning said she is used to as the host of many College Republicans events at Texas A&M University. Browning said in the discussion that she has assisted with tabling, distributing fliers and building friendships with voters who are still learning about politics.
When asked whether her work was rooted in the motivation to sway young voters to from the left to the right, Browning said that although Republicans are a minority on some college campuses, registering to vote is a bipartisan issue for her.
Nancy Lippincott, 87, of Cambridge, said she was eager to engage and support the young vote.
"[I] found it interesting how the Parkland tragedy has translated into mobilizing a younger voting activity," she said.
Mikael Tessema, 20, of Cambridge, said that as a Harvard student, he was required to attend the forum, but he decided to stay for the entirety of the event after seeing the diversity in backgrounds and experiences represented on the panel.
"Voting wasn't always on my mind," the Harvard junior said, "but now I see how connected all the issues I'm learning about are and how you have to pay attention to the struggles people are going through all over the country."
The speakers ended the forum by offering audience members the opportunity to register to vote and learn more about the upcoming elections in Massachusetts.