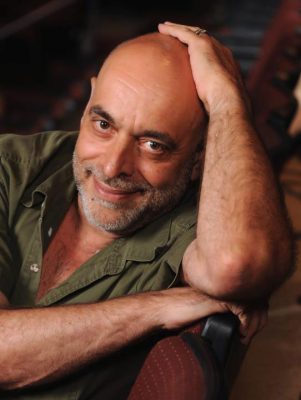 Jim Petosa will officially step down from his position as director of the College of Fine Arts' School of Theatre (SOT) June 30.
Petosa has been the director of SOT since July of 2002, he wrote in an email.
Although Petosa is stepping down from his administrative position at Boston University, he wrote that he will continue to teach and direct productions at SOT and the CFA Opera Institute.
Petosa will also continue with his "outside professional work," he wrote.
Despite his decision to step down, there are things he will miss about his administrative position, he wrote.
"The job often demands that you inspire people," he wrote. "In so far as I was able to do that from time to time, it was an opportunity and a gift to be given those opportunities."
His favorite accomplishment as director is building an effective faculty and staff ensemble "who have a tremendous conviction and belief in the work and values of our school." This community spirit led to such results as the evolution of SOT's programs and the design of the Booth Theatre, Petosa wrote.
"Everything we have accomplished has come from that spirited sense of team and shared values," Petosa wrote. "… I've always believed that we need to leave the places of our stewardship better than we found them. With the help of many, that has been accomplished."
Yo-EL Cassell, a professor of movement in CFA, said that although Petosa will continue to teach, Cassell's "heart dropped a little" at the news that Petosa will be stepping down as director.
"I think he is just fantastic," Cassell said. "I have had the pleasure of working with him … to help plan and develop the movement curriculum. He has such a generous spirit: supportive, understanding and he been nothing but supportive in exploring the movement curriculum and where we want to take the movement curriculum."
Cassell, who has been working with Petosa for three years, said that even before coming to BU, he had heard good things about Petosa.
"It is such a pleasure to collaborate with him, and that's what I heard about Jim before I entered BU," he said. "How he treats everyone as partners. He keeps people working together and working out a solution together."
SOT has changed dramatically during Petosa's tenure, said James Noone, a professor of scenic design who has worked with Petosa for 15 years.
"I think all of the shows that Jim has directed at the school have been really exciting," Noone said. "You see, he brings a very theatrical, detailed approach to every production. I think the thing he's taught us most here at school is to bring purpose and meaning to the work that you do."
Because of these changes, SOT's work is now "a point of view, a reason for being," Noone said.
"He tries to find how the world that we're living in can be reflected in and revealed in the work that he does here," he said. "It gives us a reason for making the work that we do. He gives us a reason for making the work that we do."
Jaliana Griesbach contributed reporting.