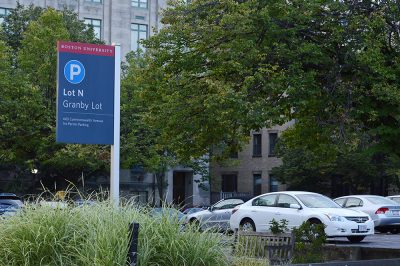 A new data sciences building, to be constructed at 645-655 Commonwealth Ave. was proposed by Boston University in a letter of intent Tuesday.
The letter from Senior Vice President for Operations Gary Nicksa, addressed to Brian Golden, director of the Boston Planning and Development Agency, detailed the university's plan to replace the parking lot next to the Sargent College of Health and Rehabilitation Sciences with a 350,000 square-foot, 19-story building.
The space is intended to unify "closely allied data sciences disciplines," and will offer "open space, pedestrian amenities and landscape features," according to the letter.
Construction is expected to begin in fall 2019 if the proposal is approved, Associate Vice President for Operations Walt Meissner said, and will take between 27 to 30 months in order to complete.
The building, which would include a five-story podium and 14-story tower at the corner of Commonwealth Avenue and Granby Street, is also planned to have sustainable geothermal power, Meissner said.
Construction of the building will "be disruptive to the center of campus for two to three years," according to Meissner.
The concept of constructing a new data sciences building was first proposed by BU President Robert Brown and University Provost Jean Morrison in 2012, Meissner said.
The plan was approved, and the university selected Canadian architecture firm KPMB Architects to design the building, he said. Although KPMB produced schematics for the proposed building in 2014, construction was delayed as other projects were prioritized. It was only in December that the university decided to move ahead with the project, Meissner said.
A project notification form, which is projected to be released on Oct. 1, will provide more details concerning funding and other technical information, Meissner said. BU is still calculating the cost of construction, he said.
Marla Hiller contributed reporting.