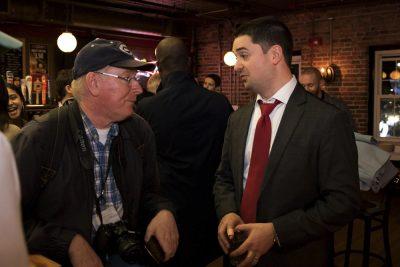 By Zoe Allen and Haley Lerner
City Councilors Josh Zakim and Ed Flynn proposed a hearing order at Wednesday's Boston City Council meeting to change the location of the Boston Freedom Rally, commonly known as "Hempfest," where cannabis supporters come together with vendors at Boston Common.
Zakim, who represents District 8, and Flynn, who represents District 2, cited safety, clean up, park maintenance and public disturbance concerns as reasons behind their drive to change the event's location during the meeting.
Many of Zakim's colleagues, he said, have complained to him over the years about the negative impacts of the Freedom Rally, but he clarified that his concerns were not about being for or against the use of recreational or medical marijuana.
"I have been a supporter of specific dispensaries of legislation to liberalize our policies around marijuana and cannabis use in Massachusetts," Zakim said in the meeting. "But this is about the proper use of the Boston Common, one of the jewels of our city, [and] impacts to surrounding neighborhoods."
The rally's recent change from the length of one day to three days was an area of concern for Zakim. He also said smoking any substance is prohibited on the Boston Common and in all City parks, a rule that many rally attendees tend to ignore.
"At this point," Zakim said, "out of,  I think, frustration, a lot of our constituents in Beacon Hill and downtown neighborhoods have tried over the years to work with the parks department, the police department, on ways to make sure the permit and the rules are respected, and we need to continue doing that."Zakim finished his remarks by reiterating that he does not take issue with the message behind the rally but is concerned about the impact it has on residents who live around the Common.
John Pontillo, 27, of Roxbury, said because marijuana is legal in Massachusetts, he does not see a problem with Hempfest being held in the Common.
"I believe there's stigma because there's misinformation about marijuana in the way it's been treated around politics and the lack of science around it," Pontillo said. "I think people are hesitant to embrace it or think about it in any different type of way."
Pontillo also said he thinks moving Hempfest out of the Common would delegitimize the legalization of marijuana.
"All of those events," he said, noting the Women's March and March for Our Lives, "occur in the Common, so taking an event like [Hempfest] out would impact its perception."
Flynn said in the meeting that his biggest priority is maintaining the beauty and prestige of the Common, which is the oldest public space in the country.
"This is about quality of life issues throughout the neighborhoods surrounding the park," Flynn said. "[The Common] is one of the most beautiful parks in the country, and we want it to remain that way for everybody, including children, seniors, the disabled, residents in the area, families in the city and tourists that visit our great city."
Tom Witas, 57, of South Boston, said it does not make a difference to him where Hempfest is held.
"Smoking that stuff isn't really good for you," Witas said. "I think I voted against legalizing it, but it doesn't really matter to me."
Although there are some cons to Hempfest being held in the Common, Lindsay Fuori, 22, said she thought it would be more dangerous if held elsewhere.
"I think it's not the most pleasant for most people, but I also wonder if it would be dangerous if it was somewhere else because it's a big open area where there's plenty of police coverage and safety and protocols in place," the Brighton resident said. "I'd be curious to hear where they want to move it, because I feel like a more remote area is probably going to affect a more specific community."
Sydney Brown contributed to the reporting of this story.