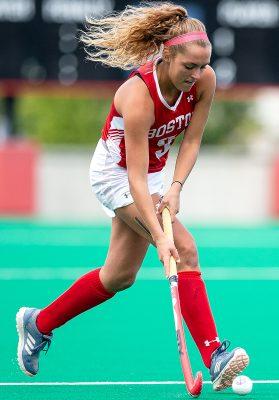 The Boston University field hockey team will look to continue its perfect Patriot League record in Easton, Pennsylvania, where it will face off against Lafayette College Saturday.
While the Terriers (6-3, 2-0 Patriot League) are going into the match with a shutout against Colgate University in its back pocket, the Leopards (2-7, 1-0 Patriot League) will be looking pick up a second conference win for itself.
Despite the team's losing record, BU head coach Sally Starr said she expects to face off against a talented group.
"I expect Lafayette to be a well-coached, hard-playing team," Starr said. "Lafayette is always tough to play against, double as tough when they're at home."
Lafayette won its first Patriot League match of the season Sept. 14 against Lehigh University 3-2 in an overtime decision.
The Leopards' first goal came off the stick of sophomore Grace Angelella off a connecting cross from senior Kristen Taylor, giving them a lead going into halftime.
However, the Mountain Hawks (1-8, 0-2 Patriot League) came into the second half with a fiery offense and scored twice in less than five minutes.
Lafayette fullback Lisa van der Geest responded quickly, tying the game in the 52nd minute.
While Lehigh held the game into overtime, Leopard forward Molly McAndrew only needed 20 seconds of the extra period to claim the win.
Scoring opportunities were heavily in Lafayette's favor with a 20-6 shot differential and a 10-penalty corner advantage.
The Leopards' only other win of the season also came in overtime against Drexel University, where van der Geest and McAndrew struck again for the game-winner.
The two lead their team with eight and five points respectively.
Of Lafayette's seven losses of the season, six fell to multi-goal deficits, leaving the team with an overall goal differential of 13-29.
The Leopards' most recent loss came against No. 19 Liberty University.
Despite Lafayette goalkeeper Sarah Park putting up 12 saves, the team was unable to overcome the two-goal lead Liberty (7-2) established in the first half.
Park has started every game of the season for the Leopards and put up a .644 save percentage through an average of 3.45 goals-against.
Van der Geest and Park both earned recognition as defensive players from the Patriot League for the week of Sept. 24.
"[The Leopards'] record doesn't really reflect their quality of play," Starr said. "They're going to play to win, and we have to prepared for that."
In 2017, BU opened its conference play against Lafayette with a 5-1 victory that extended BU's record against the Leopards to 4-1 in the two teams' history.
Two Terrier goalkeepers, senior Kathleen Keegan and sophomore Millie Baker, saw action against Lafayette.
While Baker made the game's two saves, Keegan has started every game this season, played the full time in the last five and is coming off of a series that earned her her first career shutout and the title of Patriot League Goalkeeper of the Week.
The game also saw sophomore forwards Ailsa Connolly score her first hat trick as a Terrier and Petra Hall open scoring in the 21st minute off a cross from senior forward Kara Enoch.
Starr stated the two have only improved since last season.
"They're fantastic competitors," Starr said. "They're both coming off strong freshman years, and their play this year is an extension of that."
The two forwards have both graduated to regular starters and lead their team in points: both have two assists, but Connolly has a one-goal edge.
This continues the trend from last season when Connolly led the team in points and goals.
Three of Hall's four goals were game-winners, including her tally in BU's win against American University.
The last of Hall's goals came as a spare during the Terriers' shutout against Colgate University, during which the game winner came from freshman midfielder Rebecca Janes' first goal at BU.
Along with Connolly and Hall's skills on the field, Starr said she appreciated them as team members.
"Their confidence has only improved," Starr said. "I also like how supportive they are, how they talk to their teammates … it's cliche, but they really give 100 percent."