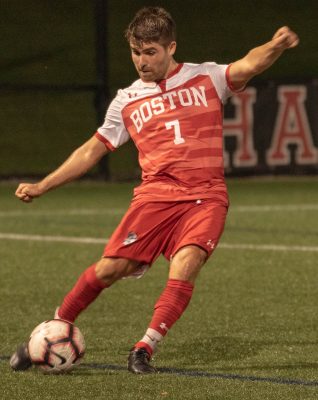 Coming off a loss against Brown University Tuesday, Boston University's men's soccer will return to conference play this weekend to face Lehigh University.
For the Terriers (2-5-2, 1-0 Patriot League), it will be the third and final game of a brief homestand.
Early in the season, BU head coach Neil Roberts noted that out-of-conference opponents served as whetstones for gearing up against the Patriot League.
"We look a little different now," Roberts said after the loss of junior forward and the Terriers' leading scorer Matt McDonnell to injury, "but I think we've been fortunate that the teams we have played are very similar to some of the better teams in the conference."
With a win, the team would continue its perfect conference play and complete its stint at Nickerson Field above .500.
In order to do that, BU will have to beat a Lehigh (4-4-1, 1-0 Patriot League) team that, after starting out the season 0-2, has since outscored their opponents 9-5 with a record of 4-2-1.
In that seven-game stretch, Mountain Hawk goalkeeper Will Smith has five shutouts to his name.
In a three-game stretch early this season, Smith totaled 20 saves in three games against Drexel University, George Washington University and St. John's University.
However, the goalkeeper fresh out of Bethlehem did not fare well against the Terriers in last year's contest, where sophomore midfielder Toti Knutsson and junior Mana Chavali both tallied a goal against Smith.
BU took the game 2-0 to improve to 2-0 in Patriot League play.
On the other side of the field, the Terriers will have to stop Mountain Hawk forward Mark Forrest.
The star forward was named Third Team All-American, First Team All-Patriot League and the Patriot League Offensive Player of the Year in 2017.
In his junior year last season, he put up a stat line of 15 goals and 8 assists for a total of 38 points. Still, he did not tally a point in the game against BU last season.
Senior goalkeeper Mike Bernardi and the defense held Forrest pointless through three shot attempts.
In a recent interview, McDonnell spoke to the team's current level of play.
"Just because we haven't played well in a few games doesn't mean it's the end of the world," McDonnell said. "It's just a few games. We're close. It's a short span of time, so we can definitely bounce back if we believe in the system we're playing with."
In recent matches against Princeton University and Harvard University, BU was tied or leading the game in the second half.
In both of those games, the opponent came out on top. In the win against American, a two-goal lead narrowed into a one-goal lead.
Freshman midfielder Kari Petursson scored his second goal of the season against Brown (4-3) and has six points in total, good enough for second on the team.
Senior midfielder T.J. Butzke has been setting up chances for his teammates with an assist apiece in the last two games.
"I think last year we were a little sloppy," McDonnell said. "This year, we want to try to play with a little better shape and play a little better defensively so we can work it outside and get our crosses in where we score a lot of our goals."