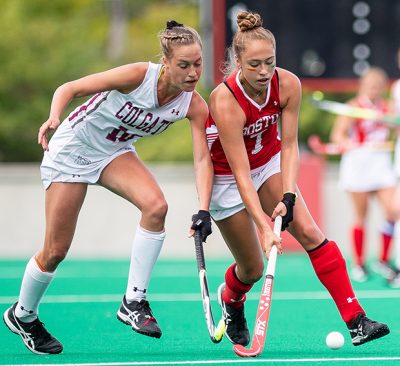 The No. 24 Boston University field hockey team claimed a decisive 7-4 win over Patriot League rival Lafayette College, then fell against No. 5 Princeton University 1-3 while on the road this weekend.
After the win against Lafayette (2-8, 1-1 Patriot League), the Terriers (7-4, 3-0 Patriot League) claimed the top spot in Patriot League standings.
BU head coach Sally Starr emphasized the importance of the win.
"[It's] great to be 3-0 in the conference with two road wins against good teams," Starr said. "It was also a game where we were able to get young players some quality playing time."
Freshmen midfielders Haley Lowell and Molly Rottinghaus both scored their first collegiate goals in the game.
Leopard forward Caroline Turnbull opened scoring at Rapport Field in the 12th minute off of a penalty corner.
It took until the 26th minute for BU to tie the game with a rebound from sophomore forward Miya Denison, and after that, the Terriers scored another five straight goals in the next 25 minutes of play.
Sophomore forward Petra Hall briefly claimed the title of the team's leading scorer after picking up two, back-to-back goals in the second half.
The goals from Lowell and Rottinghaus sandwiched a resurgence from Lafayette where the Leopards scored three unanswered goals, including Turnbull's second of the game, but the final score was set at 7-4.
Junior goalkeeper Livy Golini made her third appearance of the season in the 67th minute, recording a save 19 seconds into her playing time.
Senior goalkeeper Kathleen Keegan, who started the match against Lafayette, returned to net against Princeton (8-3), making a total of three saves through the weekend.
Despite the final 1-3 score, Starr saw aspects of the team's play that she approved of.
"We played really well against an outstanding Princeton team," Starr said. "[We] defended particularly well in the second half and at the same time created really good scoring opportunities."
The Tigers outshot BU 5-3 in the first half, while the two teams paced each other in fouls (0), saves (1) and corners (2).
One of Princeton's top scorers, sophomore forward Clara Roth, opened scoring in the second minute of the game.
The team would score again in the 14th minute and within two minutes from the teams' return from halftime.
In the second half, the Terriers tightened scoring opportunities to an even 3-3 and kept the Tigers from the corner entirely.
Princeton goalkeeper Grace Baylis' shutout was broken in the 44th minute by sophomore forward Ailsa Connolly after going undefended within the circle, allowing for an open shot after a cross from junior midfielder Kiley Gallagher.
Starr identified the loss against a top-10 team as a learning opportunity.
"We continue to grow and improve against quality opponents, and it can only make us better," Starr said. "It raises the bar in how we need to play the game with quicker decisions, on and off the ball."