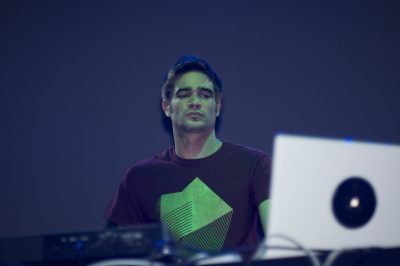 Intelligent dance music artist Jon Hopkins may produce electronic music, but comparing him to an EDM, or electronic dance music, DJ is like comparing a concert pianist to an MP3 file. Hopkins manipulates his songs' textures like almost no one else can.
With three Korg Kaoss pads at his fingertips, Hopkins is able to rework the layers in his music like an improvising virtuoso. He truly is a personification of his genre, intelligent dance music, or IDM. It's his indubitable understanding of his equipment that made his show at The Sinclair Wednesday so incredibly captivating.
To be fair, Hopkins' mastery of his craft was a long time coming. Since releasing his first album, "Opalescent," in 2001, the British producer has worked with huge names. His big break came when legendary producer Brian Eno acquired him to produce Coldplay's album "Viva La Vida Or Death and All His Friends."
Following the major success of the record, Hopkins continued to work with Coldplay, all while creating solo albums of his own. It also gave him a chance to work in the world-class studios of Parlophone Records. This allowed him to define his particular style of IDM, one that involves long, arduous songs with characteristic layers that become manipulated over their long runtimes.  
If Wednesday's show represented anything for Hopkins, it is that he is far more than an accessory to an English alternative band. Much of his show was dominated by the track list of his incomparable 2018 album, "Singularity." But the question remained how his explosive, big-room production would fit in such a small concert venue. 
Without saying a word, Hopkins took the stage two hours after the doors of The Sinclair opened, playing his title track "Singularity." The sound was absolutely blaring, but as it developed, it became clear that Hopkins wasn't going to just sit back and play his album front to back.
Each song he played ran far longer than its original version. This meant a drop sequence at almost double the length of the version of "Singularity" on his album. Backed by an audio-visualization projected on a screen behind him, the opening was stunning. 
It also led perfectly into the album's second track and first single, "Emerald Rush." Again, the song was stretched to unimaginable proportions. On the album version, the intro to the main synth lead lasts just under two minutes. At the show, however, he included an unreleased piano riff that made it feel closer to four, all leading up to a thumping cascade of sound.
After the song ended, a booming bassline blared from the stage as the white screen filled with an entrancing color pattern for the start of the song "Neon Pattern Drum." At this point, Hopkins' psychedelic side was strongly pronounced.
Not only does his music range between blissful etherealness and pounding soundscapes, he also chose a star constellation in the shape of the molecule dimethyltryptamine (DMT), which is a hallucinogenic drug, for his "Singularity" album cover.
Following a performance of the 12+ minute monster track "Everything Connected," Hopkins played a few songs from his 2013 magnum opus, "Immunity."
First of the pair of songs was "Open Eye Signal," which he reworked almost beyond recognition. Many of the familiar drum patterns and synth motifs were present, but the song's mood was still radically different, as if the original MIDI patterns had been processed through completely different voices. The same occurred when he played "Collider."
That's not to say that the reworks were bad, though. Hopkins is notorious for manipulating his songs' intricate patterns on the spot: one motif — like drums, for instance — may be more pronounced than it was on the album version. The radical remixes he delivered to his audience were a refreshing change of pace that electrified the crowd.
Before an encore of old remixes, Hopkins closed out his show with a performance of his track "Luminous Beings." Following up with this more relaxed song invoked the same stark contrast as it did on his album. It signified an obvious "come down," reminiscent of the prominent psychedelic themes shown throughout his shows.
Hopkins' show was a remarkable example of how to perform as an electronic artist. EDM artists may be able to draw crowds of thousands to their shows by adding minimal, if any, changes to their original musical compositions. But with Hopkins' mastery of his art, it's tough to look at an electronic show the same way.
His performance style is one every budding producer should want to replicate.