The Eos Foundation released a report Thursday that revealed a lack of gender parity in the leadership of higher education institutions in Massachusetts.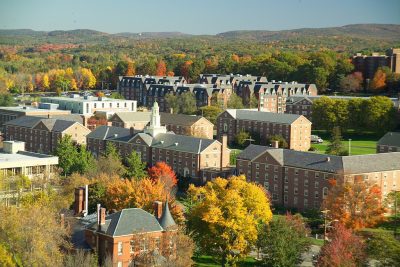 The report on the women's power gap in higher education looked at the diversity of university leaders in the 2017 to 2018 academic year. In the study, the foundation discovered that although the majority college students are women, only 31 percent of higher education institutions have a female president. Additionally, only one out of 15 state universities in Massachusetts has a female president.
Christy Mach Dubé, co-author of the report and director of major initiatives at the Eos Foundation, which aims to increase the number of diverse female leaders in Massachusetts and assist children in poverty, said a series of articles about Salem State University's 2017 presidential search motivated Eos to pursue this topic of study.
"A woman was not chosen among the finalists and this left zero women in leadership among our state universities," she said. "This raised some questions. How did that happen? Is this a blip or perhaps a trend in higher education in Massachusetts? We decided to dig a little deeper."
The Center for Women in Politics and Public Policy at the University of Massachusetts Boston was commissioned to compile data and perform an initial analysis. Profiles were then sent to universities to validate the data, Dubé explained.
"[Our] role as a private foundation is to share information," Dubé said. "This really is an open source tool. I think it's really up to the university students, alumni, donors and leadership to look at this data and decide how they want to act on it."
Dubé said Eos believes that by closing the power gap, institutions will be stronger and produce the most qualified graduates. The report stated that the higher education sector is a major economic force in Massachusetts, with Boston-based universities producing an economic impact of over $9 billion.
"We at Eos think that there should be gender parity in leadership," Dubé said, "but maybe not every school community thinks that."
Christa Kelleher, research and policy director at the UMass Boston CWPP, was part of a team of five who were commissioned to design the methodology of the research. She said the results of the study did not surprise her.
"I think we're seeing really stalled progress in private [universities] and a bit of a decline in the public institutions," Kelleher said. "That was disturbing to us, particularly as we are coming from a public institution of higher education and one that is frankly very diverse."
Kelleher said the process of research, data validation and report-writing took about a year to complete. She explained that it was important for women and women of color to be well-represented in academic leadership to set a positive example for female students.
"For women not to see [women] in the higher echelons of leadership and academic leadership and women of color not represented in higher numbers can be disconcerting," Kelleher said. "It may symbolize that leadership is very much male."
The report was released at an event held in partnership with State House News Service at the Massachusetts Continuing Legal Education Center, Kelleher said. She said she believes the panel launched an important conversation that she hopes will extend beyond Massachusetts.
A number of recommendations for resolving the gender disparity problem were listed in the report, such as filling vacancies with female educational leaders until parity is reached, promoting women to serve as chairs and officers on the universities' boards and requiring schools to undergo training on inherent biases.
Jana Kasab, a first-year graduate student studying philosophy at Tufts University, wrote in an email that she found the statistics odd. She wrote that women seem to be eligible for leadership positions in higher education institutions and that she believes the statistics reflect a problematic power dynamic in the higher education system.
"While it seems that the private sector has made more progress when it comes to closing the power gap," Kasab wrote, "I think a move on the public sector's part would have a bigger impact due to the higher enrollment of students."
Rachel Marcus, a senior studying psychology at Brandeis University, said she thinks there is a drastic difference between the private and state universities in Massachusetts and believes this issue needs to be investigated and resolved.
"I think that it's important to have more women in leadership positions in higher education overall," Marcus said. "I think the information just supports my perspective that our society [is] continuing to [become] male dominated. Considering ourselves to be in progressive times, it reaffirms that women still need to fight to be heard and seen as an equal."