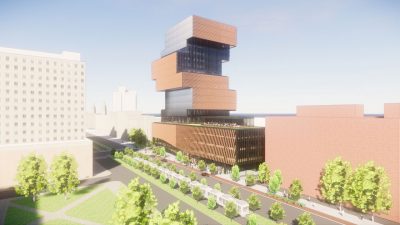 By Joel Lau and Alexander LaSalvia
Boston University released a project notification form Monday for a planned data sciences center on Commonwealth Avenue.
The 17-story, 350,000-square foot building would house the College of Arts and Sciences' statistics, mathematics and computer science departments, BU spokesperson Rachel Lapal wrote in an email, as well as the Rafik B. Hariri Institute for Computing and Computational Science and Engineering.
Construction is anticipated to begin in spring 2019 once the City of Boston approves the necessary building permits, Lapal wrote, and is scheduled to be finished by spring of 2022.
The data sciences center would be located opposite Warren Towers, Lapal wrote, on the site of the current Granby Parking Lot and would feature learning and teaching spaces specially designed to foster innovation and cooperation. Such spaces would include terraced platforms along the building, whiteboard walls and a "collaboration ramp" with gathering spaces.
Adam Smith, a computer science professor and data science fellow, wrote in an email that the idea for a new building like the data sciences center has been in the works for over a decade, and the building could provide much-needed teaching space. Currently, all data science-related activity is housed at 111 Cummington Mall, which Smith wrote is "too small for the purpose."
BU will also be hiring new faculty for the Data Science Initiative (DSI), which would be housed in the new building, Smith, a member of the DSI faculty advisory committee, wrote.
In comments provided through a BU spokesperson by email, BU President Robert Brown said the building would provide valuable space to a growing field in the current economy.
"The project is critical to the University to give expansion space to the important fields that are driving the use of modern data sciences across the spectrum of our economy and society," Brown said.
BU does not expect to know a cost estimate for the building until next spring, Brown said.
The building plan reaffirms BU's dedication to its Climate Action Plan, University Provost Jean Morrison said, and the center would feature green technologies that would do much to fulfill the environmental commitments BU has made.
"Through the technologies that will be used in this building, we're working to make sure that the building is as environmentally friendly and self-sustaining as is possible," Morrison said.
While the data sciences are increasingly utilized in today's society, Morrison said the university's decision to dedicate so many resources to the creation of this building ultimately reflects an "explosive growth in demand" among students over the last 15 years for "opportunities to learn, major and take classes in these areas."
The building proposal, however, has received mixed reactions from BU students.
Layan Al Sharif, a sophomore in the College of Engineering, said she likes the idea of the building but questions its necessity.
"I honestly like the idea of having a building that's different because I feel that generally, our buildings are kind of old," Al Sharif said. "But at the same time, it's really big compared to the other buildings. I feel like a whole building dedicated just to that in a way is unfair."
CAS sophomore Jared Yellen said he does not find the planned building aesthetically pleasing.
"It's going to be huge, and it's going to look like nothing around it, and it's gonna stand out like a sore thumb," Yellen said.
Although some BU students said they are unsure of the new building, others said they believe it could be beneficial to BU's campus.
CAS senior Rishi Chopra said he thinks the proposed building is a good idea because he feels computer science students currently don't have enough space.
"I know a lot of computer science students, and they're always in some basement classroom in the math-science building," Chopra said. "Or, I mean, the Hariri Institute is nice, but it's lacking resources."
Morrison said that the new data sciences center would help maintain BU's position as a leading academic research institution.
"[The building] will allow us to compete for the best faculty and students in the area of data science, which is a highly competitive area right now," she said. "So having world-class facilities is an important part in being able to compete in that arena, as this would allow us to be fully competitive with what will be a world-class space."
Dane Persky contributed reporting.