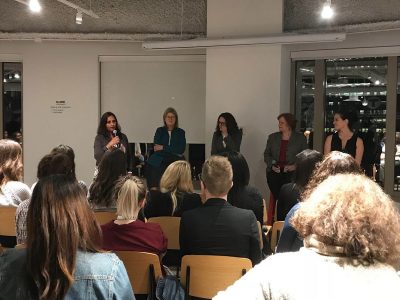 Five female entrepreneurs gathered to speak on a panel in the General Assembly Boston workplace, where young professionals lounged on red sofas, talking code and design and working on laptops. Groups of college students traveled to GA to hear what the five women had to share.
GA offered the "How She Got There: An Evening with Female Entrepreneurs" function as a career development and networking event Thursday.
Amy Cueva, founder and CEO of Mad*Pow, spoke on the panel. Mad*Pow is a design agency that focuses on creating social impact.
Beth Santos, founder and CEO of Wanderful, also joined Cueva on the panel to discuss her company, a blog-turned-startup that helps female travelers by providing a network of women to turn to for tips or resources.
Barbara Finer, COO of Southie Autonomy, Meena Kaushik, product strategy manager of Medidata Solutions, and Catherine White, a manager director for Golden Seeds, spoke on the panel as well.
Business cards for different startups founded by women covered wooden tables in the meeting room. Scout & Cellar, founded by Sarah Shadonix, displayed cards at the event's table.
The business aims to introduce the "clean-crafted" wine in the market. According to the Scout & Cellar's website, Shadonix was inspired to launch the business after learning about the mass-production of wine and the chemicals found in these wines.
Scout & Cellar's wine is advertised as better-tasting and more natural on their website.
Once the panel began, the speakers addressed the reality of being women in tech and how to create a startup, deal with failed businesses, find local resources from human resources to funding and balance in their businesses.
Finer outlined the bumpy road a hopeful entrepreneur has ahead. She said she had seven past businesses, however, only a few survived. She launched her first startup in 1984 after working as an engineer in a large company and had to hustle within the male-dominated engineering and technology industry.
She said she experienced many obstacles because she was a woman and learned how to endure these difficulties without them affecting how she viewed herself.
"Always feel good about yourself and ask for things politely," Finer said in an interview.
She advised young entrepreneurs to start with the little things, the little ideas, and work with people with goals and values that are aligned with theirs.
Cueva advised hopeful entrepreneurs to adjust their mistakes as they recognize them and remain aware of their emotions.
"Process your emotions first and let it simmer for a little bit, and then figure out how to communicate them with others," Cueva said in the panel.
Cueva also emphasized the importance of delegating work and said that without doing this, entrepreneurs run the risk of doing too much and forgetting or neglecting smaller tasks. Other speakers discussed what it meant to attain balance, and Santos pointed out flaws in the way many people discuss scheduling work and free time.
"I don't like the word work-life balance because it assumes that you cannot be doing work and doing life at the same time and that you're only working at work," Santos said in the panel. "I think it should just be a life-balance."
GA offers other professional development opportunities and weaves user experience design, data science and business together. The organization prepares students with courses and workshops that allow for access to the technology industry.
"We offer free intro classes on campus here at GA, where students can come down and sample a class out," said Lauren Stephenson, senior admissions producer at General Assembly.
An alternative to college classes, and like a startup, General Assembly teaches students to access their creativity while focusing on the needs and relationships among people.
Emily Baron, culinary nutrition program coordinator at Harvard T.H. Chan School of Public Health, attended the event and said she appreciated how it brought people together from across the business industry.
"It's the first event in Boston where I saw so many women come together and help one another succeed," Baron said. "I am very impressed and look forward to other similar events from General Assembly."