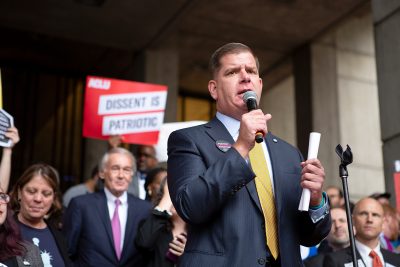 Hundreds of people gathered at Boston City Hall Plaza Monday morning to demand that Arizona Sen. Jeff Flake reject Brett Kavanaugh's nomination to the U.S. Supreme Court after three women came forward to accuse Kavanaugh of sexual assault.
The rally was staged next to the Forbes 30 Under 30 Summit where Flake was invited as a keynote speaker.
Several prominent political voices, such as Massachusetts Sen. Ed Markey, Boston Mayor Martin Walsh, Boston City Councilor At-Large Ayanna Pressley, gubernatorial candidate Jay Gonzalez and New York Congressional candidate Alexandria Ocasio-Cortez, spoke at the rally.
Students at Emerson College organized the rally after learning that Flake would be coming to the Emerson Colonial Theatre for 30 Under 30. On Sept. 28, however, Emerson President Lee Pelton issued a statement that 30 Under 30 would be moving to the Boston City Hall Plaza, citing security concerns given Flake's high profile after an incident with sexual assault survivors at the Kavanaugh hearing on Sept. 27.
Mari Sitner, a sophomore at Emerson who spoke at the rally, said the event was organized after some students saw a post on the Emerson meme page calling for action against Flake's invitation to Emerson.
Sitner said the rally was moved from the Colonial Theatre to Boston City Hall Plaza due to the number of people who expressed interest in attending.
"We picked [the event] up and made a Google [Document], and then it got so much attention on social media and on the news that they said it was going to be a safety issue to have it on campus," Sitner said.
Sitner said moving to Boston City Hall Plaza only invigorated the organizers.
"We're still going to speak up," Sitner said. "It doesn't matter where it is."
At the rally, Markey thanked survivors of sexual assault for stepping forward to tell their stories. Markey said he had a "deep debt of gratitude" to Christine Blasey Ford for her testimony at the hearing.
In his speech, Markey said that these testimonies must start a new wave across the United States, ensuring Kavanaugh is not confirmed and women continue to come forward to share their traumas.
"These women have courage," Markey said. "These women are now standing up. It was something that they once repressed for years, but now, because of you, because of people all across the country, they are now standing up."
Markey concluded his speech by affirming that he will continue to fight for "truth, equality, dignity and the future" by voting no for Kavanaugh's confirmation next week.
Joan Delaney, 64, of Quincy, said the future of the country is at stake with the potential of Kavanaugh's confirmation, with it showing that democracy is being lost in America.
"I think they have a drunk, raging virgin that they're trying to put on the Supreme Court, and they have to stop it," Delaney said.
In an interview with the press before the rally began, Walsh said it was important to put Kavanaugh under tough scrutiny and vetting because the Supreme Court position is a lifetime appointment.
"The rulings that this person is going to make and that this court's going to make is going to affect women's reproductive rights," Walsh said. "It's going to affect working people's rights. It's going to affect every aspect of our lives."
During the rally, Walsh said he hoped Flake would listen to the ralliers and understand that he was now in a position to do something "very special" by listening.
"Kavanaugh showed to us last week that he's not listening," Walsh said. "The Republican leadership showed us that they're not listening either. They're not listening to witnesses, they're not listening to survivors and they're certainly not listening to the American people."
Tori Bilcik, 23, of Jamaica Plain, said she wants Flake to know that the American people are watching his every move.
"This isn't just a Jeff Flake issue," Bilcik said. "It's really powerful to see politicians being forced to confront the humanity of these survivors that they've been ignoring for a really long time."
Many constituents noted the absence of Massachusetts Gov. Charlie Baker from the rally, including Alex La Roche, 19, of Belmont. He said Baker's reluctance to speak out at activist events like this rally did not surprise him.
"He'll tweet something just to get out of dodge, but he is not going to stand up for the people when the time comes," La Roche said.
Ocasio-Cortez, who was visiting from New York, said at the rally that it is crucial for people to continue fighting for justice, even when politicians might try to take it away from them.
"We are going to keep pushing because justice in America is not just about protecting the powerful," Ocasio-Cortez said. "It is about uplifting the voices of the victims. Justice for all is radical in America. That's what we are fighting for."
Emerson students vowed that their fight will continue, with more rallies planned for the future.
Given the success of the rally, Walsh told the press that Americans should be hopeful for the future.
"The people here are passionate," Walsh said. "There are a lot of survivors here, and it's important for us to let the survivors know that we stand with them and their difficulties in life. We need to stand with them today."
Zoe Allen contributed to the reporting of this story.