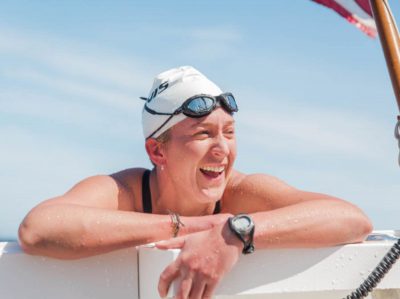 When Judy Shefshick-Karll and her friend Janis Fox Steigman attended a screening of the film "What They Had" Sunday afternoon at the Museum of Fine Arts, Shefshick-Karll was not expecting to be confronted by pieces of her own life story.
"We have a friend that's dying now. It's hard for us to get away. It was a diversion today, but it's life," Shefshick-Karll, 71, of Braintree, said. "We see life exactly how it's presented in this production."
Much like the family portrayed in the film, Shefshick-Karll's father suffered from degenerative diseases of the brain. She said she struggled with sharing the responsibility of caring for her father with her brother, who lived in California, mirroring the plot of the film.
"It was truly real life," Shefshick-Karll said. "[The film shows] how women deal with life. I feel like I wrote it myself."
The "What They Had" screening was part of the inaugural Boston Women's Film Festival, hosted at the Museum of Fine Arts and the Brattle Theatre. According to Jo Ann Graziano, the festival's executive director, the festival showcased a collection of 18 international dramas, comedies and documentaries directed by and featuring women.
"The time was right [to talk about] women in cinema," Graziano said.
To do that, Graziano said members of the festival's jury traveled to other festivals, such as the Sundance Film Festival, the Tribeca Film Festival and the Berlin International Film Festival, searching for films that fit into their vision.
"The ones that spoke to us the most about women's vision were the ones that had this overarching theme of resilience," Graziano said.
"On Her Shoulders" in particular inspired the festival's topic, according to Graziano. The award-winning documentary tells the story of Nadia Murad, a Yazidi woman forced into sexual slavery.
Graziano explained that the plot portrays the struggles Murad faces after becoming the youngest member of the United Nations and shows "how tough it is for someone to suddenly become famous when all you wanted to be was a hair stylist in your little village."
"She's become the spokesperson for all refugees," Graziano said. "We kept saying, 'Huh, resilience.' In the face of adversity, women seem to persevere. They rise above."
The festival also shone light on the story of Kim Chambers, featured in the documentary "Kim Swims." The full-length film, director Kate Webber's first, tells the story of Chambers' attempt to become the first woman to complete the 30-mile swim from the Farallon Islands to the Golden Gate Bridge through shark-infested waters.
"I think it's a portrayal of a strong, brave woman by another strong, brave woman," Webber told The Daily Free Press.
Webber said she believes in the importance of resilience in Chambers' story, her film and her own life. The director said she chose to write "Always keep moving forward" in the last line of credits to celebrate another strong female figure, her mother.
"It was near when she was passing away, and I wanted to understand how she'd gotten through difficult times in life," Webber said. "She said, 'Always keep moving forward,' and that is very much what I've continued to do since her passing and in the making of this film. I think it's a great motto for anyone, and Kim exemplifies it so well."
Now, Webber said she looks forward to inspiring audiences through her film and the Resilience Social Impact campaign, a national screening campaign bringing Webber's film to communities across the country.
"The impact that I hope to have is to inspire people through what Kim has done, or even through what I have done as a first-time filmmaker," Webber said.
Webber said she is particularly excited for two girls who will be in attendance — her nieces.
"It's pretty awesome to have these two little ladies come and see what their aunt made, watching this other brave person," Webber said.
After the festival ends, Graziano said she hopes the women who attended will be inspired to pursue careers in the film industry and change its landscape. While many women have seen success in television with award-winning shows like "The Handmaid's Tale," she said that progress in film has been slow-going.
Yet Graziano cited Cathy Yan, director of "Dead Pigs," as a success story after she recently was selected to do "Birds of Prey" with DC Comics.
In the future, Graziano said she hopes that the film festival will attract even more viewers and directors and will have new elements, such as programming for high school students and film competitions for students.
"We have to give women the shot men have had all along," Graziano said. "We want to promote young women on the rise."

CORRECTION: A previous version of this article misattributed the photo courtesy. The photo is courtesy of Kate Webber at Kim Swims Film LLC.