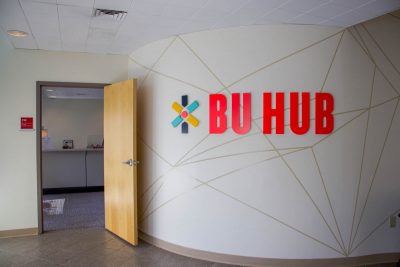 The BU Hub, Boston University's newest revamp of general education, is now one month into its implementation and facing mixed reactions from students.
Input from a student board and responses from students on their experiences with the Hub seem to indicate that it is well-received by the class of 2022, BU Director of Advising Laura Johnson wrote in an email.
"While no formal assessment has been done yet, anecdotally we've had very positive responses from first-year students who seem enthusiastic about the opportunities afforded to them by the new program," Johnson wrote, "Students seem particularly interested in the exploration the program allows, and in the possibility of meeting general education requirements through courses taken across campus."
The class of 2022 is the first group to experience the all new curricular framework that requires students to fulfill six "capacities," or general education sections, during their undergraduate years.
Tulasi Murthy, a freshman in the Sargent College of Health and Rehabilitation Sciences, said she views the Hub as being better than typical general education requirements.
"It makes sense to me, so I'm not very anxious about it, because I feel like it's like integrating classes you're already taking, but they're going to give you credit for something else as well," Murthy said, "which I guess is better than GE's."
The program is designed to be a general education experience that interweaves with every year of undergraduate coursework, Hub Program Manager Eric Jarvis said, allowing for students to take classes outside of their major or college in order to develop knowledge and skills in fields outside of their area of interest.
While some students praised the new general education program, others were not as impressed.
Rene Ismail, a freshman in the College of Arts and Sciences, said he thought it was an interesting way to develop well-rounded students, but that, as with any new program, it is going to have issues.
"My one concern is people abandoning what they want to do to fulfill certain requirements," Ismail said. "Let's say they really feel passionate for one subject, but that subject doesn't offer the BU Hub requirements that they might need to do, or they might get sidetracked."
CAS freshman Boshi Wang said he thinks the broad requirements are valuable, especially because he would not be inclined to study some of the Hub categories on his own.
"I hate linguistics and history, but because of the Hub, I think I have to take some courses about history," Wang said, "But I also think it's a good thing, because I can really learn something from those courses, because I will never read a history book apart from class."
Annie Millman, a freshman in the Frederick S. Pardee School of Global Studies, also said she feels that the Hub pushes students to explore areas of study they otherwise wouldn't, but that the types of units to be fulfilled by some classes could be re-evaluated. Millman, who is studying international relations, said many of the courses required for her major do not qualify for Hub units.
"I feel like I'm seeking out historical and cultural exploration stuff for the Hub, and I'm stressing about getting that covered, when in reality, I think IR does a lot to cover those," Millman said, "so I think that because the program is still pretty new, they still need to do a better job of adding classes that qualify for Hub units."
The flexibility of Hub courses in fulfilling unit requirements is a draw for many students, like CAS freshman Kelley McCutcheon. McCutcheon said that her "Reading Shakespeare" class fulfills three Hub units that wouldn't necessarily fulfill general education requirements at another school, an aspect she enjoys.
However, McCutcheon said that the uneven translation of Advanced Placement credits from high school to Hub units and the pressure to correctly fill in the credit gaps are aspects that concern her.
"I feel like I really have to, when I'm choosing my electives … be careful about picking ones that have Hub credits that are not going to be covered by my major or requirement classes so I can get them done in time," McCutcheon said, "because my APs aren't fulfilling Hub credits that are the ones that I need."
As most of the logistics that went into implementing the general education program occurred between May 2016 and last August, Jarvis said the main challenge has been raising awareness for the Hub around campus, particularly what it is and how it works.
"I think right now we're really just trying to collect as much feedback as we can from students, from faculty, from staff, to begin the process of assessing how things are going," Jarvis said, "But really, what we're trying to focus on is to just help everybody know what the Hub is … and why it's important."